Amarinth Wins $500K Order for API 610 OH2 Pumps Destined for the Karachaganak Field, Kazakhstan
Amarinth has won a $500K order from KPO in Kazakhstan for six API 610 OH2 pumps. The Karachaganak field is the biggest gas condensate field in Kazakhstan and is owned and operated by Karachaganak Petroleum Operating (KPO).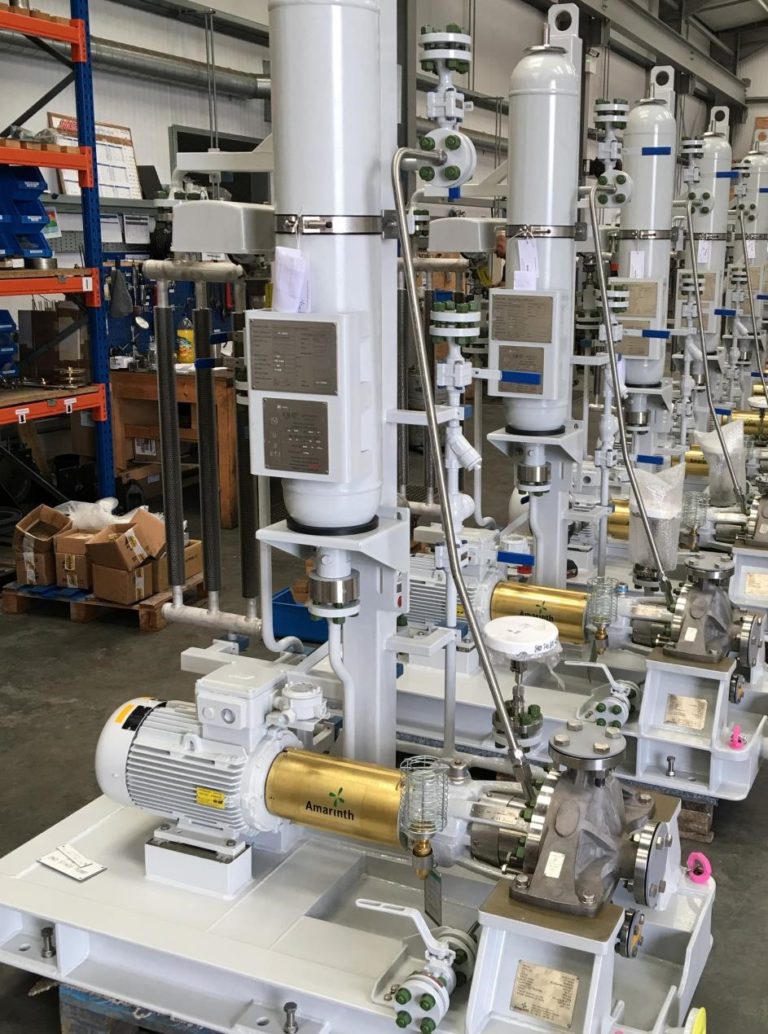 Amarinth API 610 OH2 pumps being assembled for Karachaganak Petroleum Operating. (Image source: Amarinth Limited)
The onshore field is spread over more than 280 square kilometres, near Aksai, in northwest Kazakhstan. KPO approached Industrial Systems Group (ISG), an Amarinth agent and premier supplier of high-quality equipment for the oil & gas and associated industries in the Caspian region, following previous orders placed though ISG that were successfully fulfilled by Amarinth. The six API 610 OH2 pumps will be used for water and caustic fluid transfer duties.
Amarinth is already familiar with KPO specifications from previous orders, in addition to supplying pumps to the challenging conditions of the Kazakhstan region. For these duties, the pumps will be winterised to work reliably in operating temperatures from -40C to 65C and will be manufactured in Low Temperature Carbon Steel. They are also designed to connect directly to existing KPO Variable Speed Drives.
The pumps are required on a 40-week delivery, which is well within Amarinth's ability using its proven and comprehensive supply chain, despite many other suppliers currently suffering from component shortages and long-lead times at foundries. The pumps will be EAC Certified, proving the equipment complies with the Eurasian Economic Union (EEU) regulations and standards for customs clearance and trade. Amarinth is also handling the complex GOST-K Certificate of Conformity documentary evidence required by Kazakhstan law to prove that equipment meets Kazakhstan requirements and standards, something again that the company has developed expertise in.
Oliver Brigginshaw, Managing Director of Amarinth, commented: "We are delighted to receive another order from KPO through ISG, our agent in the region. The confidence from KPO in Amarinth to deliver reliable pumps working in such arduous conditions underlines our on-going commitment, alongside our agent ISG, to the oil and gas industry in the Caspian region."