Amarinth Has Secured Orders for the Coral South Development Project, Mozambique
Amarinth has secured orders totalling $750K of API 610 OH2 pumps with Plan 53B support systems for the Coral South Development Project, Mozambique.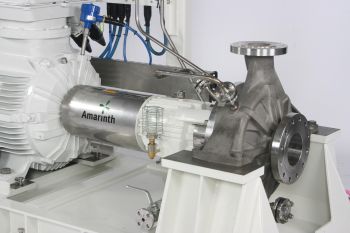 Amarinth API 610 OH2 pumps ready for shipment to the Coral South Development Project, Mozambique (Image: Amarinth)
Coral South is the first project in the development of the considerable gas resources discovered by Eni in Area 4 of the Rovuma Basin, off the coast of Mozambique, more than 2 kilometres (1.24 miles) beneath the ocean's surface. The Coral field contains approximately 450 billion cubic meters (16 trillion cubic feet) of gas. Floating Liquefied Natural Gas (FLNG) facility vessels moored above the offshore natural gas fields will be used to produce, liquefy and store the natural gas at sea. Coral South will be the first ultra-deepwater FLNG facility in the world.
The $750K comprised of two orders, both secured through the Amarinth Malaysia Sales Office. The first order, which was required on a 28-week delivery, was for an API 610 OH2 pump with Plan 53B seal support system for installation on a de-sanding package.
This was quickly followed by a larger order for eight API 610 OH2 bespoke pumps with Plan 53B support systems. The bespoke design requirement for these pumps called for a 600lb flange rating on the discharge and suction nozzles, double the normal API 610 loading. Amarinth undertook the design and stress analysis using Finite Element Analysis tools to prove and guarantee the unusually high ratings. These pumps will be used in hazardous areas and so had to be fully IEC/EX compliant on all electrical items and, like the first pump, were also required on a tight 28-week deadline.
Oliver Brigginshaw, Managing Director of Amarinth, commented: "We are delighted to secure these substantial orders for this challenging Coral South Development Project that is breaking new ground in producing and managing the distribution of Liquefied Natural Gas in this area of growth for Africa, and we look forward to further orders as the development progresses."