Amarinth Expands in Kuwait with an Order from Gulf Energy for API 610 VS4 Pumps
Amarinth continues to expand its operations in Kuwait securing an order for API 610 VS4 pumps from Gulf Energy.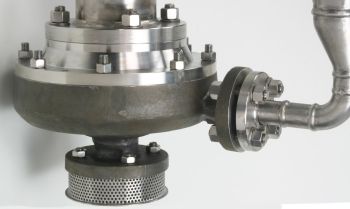 Amarinth API 610 VS4 pump (Image: Amarinth)
With its existing Kuwait Oil Company (KOC) approval and familiarity with KOC specifications, this new order has further expanded Amarinth's presence in Kuwait. Working with its agent Rezayat Trading Co. Ltd., one of the oldest established trading houses in Kuwait, the company secured the order for two API 610 VS4 vertical pumps with Plan 53B seal support systems from Gulf Energy to be used in a waste water treatment process at the GC-17 facilities and Abduliyah Pump Station, operated by KOC.
The site has restricted power and so Amarinth had to carefully size the pumps for the highest possible efficiency. They will be used in the recovered oil drum for the new effluent water balance tanks. A further design consideration was that they had to operate at low NPSH.
Although these pumps are for a waste water process, they were still under the same KOC specifications as other oil and gas pumps on site. Amarinth used its wealth of knowledge and skills from other demanding projects to deliver a particularly cost-effective design for this duty to meet the budget constraints. The nickel alloy pumps will also be delivered against a tight 22-week lead time.
Oliver Brigginshaw, Managing Director of Amarinth, commented: "We are delighted to receive this order which further underlines our strength in Kuwait and the confidence we have from KOC to deliver cost-effective pumping solutions across a broader range of requirements, such as at this waste water treatment process. We look forward to working with our agent Rezayat Trading Co. and delivering further products into Kuwait, and throughout the Middle East, that meet an increasing diversity of needs."