Air-Operated Double-Diaphragm Pumps Handle the Diverse Products Used In Paint Manufacture
Wilden announced that its Advanced Series Stainless-Steel Air-Operated Double-Diaphragm Pumps feature the performance versatility necessary for use in paint-manufacturing operations where the transfer of such diverse products as resins, solvents and pigments is required.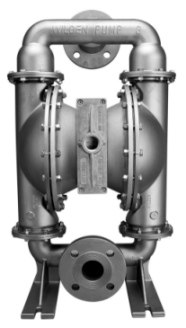 Wilden Pump
Advanced Series pumps are available in four port sizes: PX200 25mm (1"), PX400 38mm (1-1/2"), PX800 51mm (2") and PX1500 76mm (3"). This allows paint manufacturers to choose a pump that can handle solids that range in size from 6.4mm (1/4") to 12.7 mm (1/2"). All Advanced Series Stainless-Steel Pumps have a bolted configuration that ensures total product containment, while the liquid path construction reduces internal friction in order to maximize output and efficiency. A variety of elastomer options eliminate any abrasion, temperature and chemical-compatibility concerns.
These pumps also benefit from Wilden's revolutionary Pro-Flo X Air Distribution System, which creates the operational flexibility required in diverse paint-manufacturing applications. This flexibility is achieved through the state-of-the-art Efficiency Management System (EMS), which optimizes the Pro-Flo X ADS for specific operation parameters, regardless of the application demands or pump size. The EMS allows the operator to use an integrated control dial to select the efficiency point and flow rate that best suits the application. The results are true cost savings, and higher performance that goes beyond what is considered industry standard.