Advanced High-efficiency Pumps
KSB Group is introducing its latest generation of high-efficiency circulator pumps of the Calio S and Calio-Therm S type series.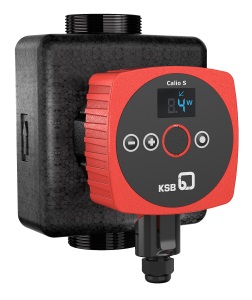 At ISH 2019 the KSB Group will be presenting its advanced Calio S circulators with a new look and new functions. (KSB SE & Co. KGaA, Frankenthal, Germany)
They are used for heating, ventilation and air-conditioning systems as well as for drinking water circulation systems (Calio-Therm S).
The pumps come in a new look compared to their predecessors. The developers placed a particular focus on ease of use and compatibility with existing systems. A vent plug at the front enables convenient manual venting and deblocking of the pump if required after long standstill periods. With the completely re-designed 230 V power plug in screw-in design and a straight cable entry, connecting the power cable is easy. All cable types up to a cross-section of 1.5 mm² can be used.
For installation in confined spaces, an angled connector is available. The main competitors' products can quickly and easily be replaced by a Calio S circulator without any changes to the electric wiring. Measurements in KSB's acoustic test facility resulted in noise characteristics below 30 dB(A). This makes the new pumps some of the quietest circulator pumps on the market. Operation is straightforward using pushbuttons and a display with symbols. An economical LCD field shows the operating mode, current input power, flow rate and head in alternation. If the Setback Operation function is enabled, the pumps identify minimum heat demand when the fluid temperature sinks continuously. They automatically reduce the setpoint by 30 percent. When heat demand rises again, the pumps revert to their previous setpoint. For applications requiring heads of up to eight metres, two additional sizes, Calio S 25-80 and Calio S 30-80, will be on offer from mid-2019. The pumps are available in standard overall lengths of 130 mm and 180 mm in grey cast iron or stainless steel. All 180 mm pumps are fitted with thermal insulation shells as standard.