ACHEMA 2006: Final Highlights
In this last part of the ACHEMA 2006 highlights, the online pump magazine tells you all about positive displacement pumps and even a world novelty in the vane pump sector.
Positive Displacement Pumps
Rotary Pumps
For the new series FL, Fristam used a new displacement profile which led to higher efficiency while eliminating functional pulsation and therefore optimised the flow behaviour. This was achieved by a third-dimensional twist of the rotary piston. When using the existing power spectrum it can be applied for delivery as well as cleaning flow pump applications. The gentle, safe and hygienic pumping of wine, juices, concentrates or flavoured milk drinks is guaranteed.
Hilge, just like ALLDOS, now part of the new industrial sector within the Grundfos Group, introduce the new rotary pump NOVAlobe for sterile applications. The pump can be emptied completely, meets all common standards for hygiene applications, is equipped with a synchronous transmission which helps to avoid a contamination of the pumped liquid through parts of the rotors when starting. The design has no dead flow zone and meets the strict criteria for cleaning and vapour sterilisation and guarantees sterile pumping at all times.
Diaphragm Pumps
In previous versions the DEPA compressed air diaphragm pumps from Crane Process Flow Technologies won over users with a simple, robust concept and design as well as years of reliable operation. Characteristic features of DEPA pumps are, among others: self priming, absolutely dry running resistant and low maintenance requirements; very gentle pumping of product; pumping only by positive displacement. All pumps are hermetically closed and free of bearing and shaft seals in the product flow. The company has now developed a new PTFE pump in three capacity sizes and the launch took place recently after completion of extensive tests. The new DEPA Compressed Air Operated Diaphragm Pumps are available as types DH 15, DH 25 and DH 40. The max. pumping capacity is 11 m³/h with an operating pressure up to 7 bar.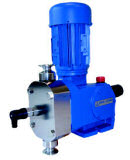 Hermetical sealing, ideal sterile cleaning and high availability are only a few features of the new ProCam Hygienic from Bran+Luebbe, which was designed according to EHEDG standards. Customers of the pharmaceutical, biotechnology, cosmetic, personal care as well as the food and beverage industry can now take full advantage of the ProCam diaphragm metering pumps for hygienic and aseptic applications.

Milton Roy shows its new diaphragm dosing pump Primeroyal K with a hydraulically actuated metallic diaphragm for flows up to 330 l/h and pressure up to 500 bar. Setting of the stroke can either be done during operation or at standstill. The electrical equipment offers a wide selection of safety and isolation options. The pump meets API 675 requirements as well as ATEX CE EX II 2 G/D c T3 or T4.
Vane and Gear Pumps

Maag Pump Systems Textron has re-modelled its magnet couplings for gear pumps. Advantages of the new magnet couplings are the lower prices and the shorter delivery times by maintaining first class quality. Using standardized parts embedded in a new design Maag was able to lower the prices up to 50 percent. Furthermore, the delivery time is only four to six weeks.

The world's first fully conductible, magnet coupled vane pump VANE-MAG comes from March Pumpen. Using conductible parts static charging is completely discharged. The pump meets ATEX 100 A requirements and was developed in cooperation with Lurgi for the us in bio-diesel units. Besides the conductivity the new material used in this pump is also very corrosion resistant. Development and production are done in Germany. The aggregate is also available as gear pump TEF-MAG.
The modular gear pumps GlobalGear from Tuthill are suitable for high viscous and high temperature applications. This makes them an excellent choice for chocolate as well as asphalt. The pumps are available in standard versions as well as magnetic drive. For the material versions, cast iron and stainless steel are the options to choose from.
With the new differential pump VPC-X2 the specialist for gear pumps Vario Pumps introduces an integrated double pump with a completely independent operation of each pump. Especially the operation as differential pump is realized through counter flows which results in a wide control range of the flow with low speed regulation range .By adding the operation of the second pump it is possible to control extreme differences in viscosities and therefore the lowering of the speed level.