50 Years of Busch Vacuum Pumps and Systems
Busch is celebrating its 50th anniversary this year. The company was founded in 1963 in Baden-Württemberg, Germany, and today it is one of the largest international companies in the field of vacuum and overpressure technology in numerous branches of industry.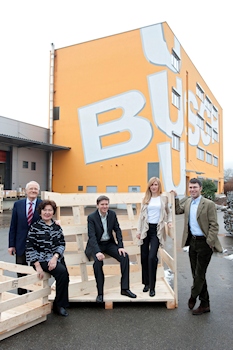 The Busch family in front of the Busch Group headquarters in Maulburg. From left to right: Dr.-Ing. Karl Busch, Ayhan Busch, Sami Busch, Ayla Busch and Kaya Busch (Image: Busch)
It all started in 1963 with a vision: Dr.-Ing. Karl Busch and his wife, Ayhan Busch, put the idea of designing simpler, better and more user-friendly industrial vacuum technology into practice. This meant that they could give users exactly what they needed – and the global success of Busch Vacuum Pumps and Systems is an impressive testament to this fact. In 50 years, Busch has grown from a small company into an international group with over 2,500 employees. But one thing has remained the same: the team spirit of a family company.
Busch has always had an understanding of how to achieve technical milestones in vacuum technology. It all started with the Huckepack, a rotary vane vacuum pump with two stages that had a space-saving and sturdy design. Next came the development of the R5, a modular vacuum pump that is still the most successful vacuum pump ever. Used millions of times over, this vacuum pump has significantly influenced the development of food packaging and more besides. The Cobra screw vacuum pump and the Mink claw vacuum pump by Busch changed the market for vacuum technology with their completely oil-free and contact-free operation. But that is all in the past, and Busch places more emphasis on its path towards the future and the speed at which the company is evolving. As such, Busch is constantly working on new, innovative technologies. The vacuum technology world of the future, a world that Busch has a determining influence on, is consistently being refined at its numerous research centres, in collaboration with external research institutions and last but not least, in close cooperation with its customers.
Since the company was founded, Busch has been living and breathing globalisation. The first Busch sales company was founded in Great Britain as early as 1971. The first Busch production plant abroad began producing vacuum pumps in Virginia Beach, USA, in 1979. Busch is now represented by 57 companies in 39 countries, giving the company an exclusive global network. The Busch Group therefore contributes to the success of its customers worldwide as the vacuum technology supplier with the most extensive global presence and considerable local expertise. Support from Busch isn't just about supplying vacuum pumps, blowers or compressors. It also means personal advice, care and support for customers and their projects that is tailored for every culture – from joint development, through to the full range of technical services.
Busch Vacuum Pumps and Systems are used in a range of applications. Busch developed its first vacuum pump in 1963 especially for vacuum packaging. This led to the first ever vacuum packaging machine being designed and brought onto the market. Today, Busch is the world market leader for vacuum technology in vacuum packaging. For decades, Busch products have also been established in applications for plastics manufacturing and processing as well as chemical and pharmaceutical process technology. Today, vacuum technology from Busch is even used in the semiconductor industry to manufacture flat screen monitors, mobile phones and laptops.
In addition to developing and producing series products for vacuum and overpressure technology, Busch specialises in developing, designing and producing complex vacuum systems. These vacuum systems consist of a combination of vacuum pumps and process components. They are controlled by the integrated measuring and control technology and are precisely adapted to the requirements of the customer's application.
Busch products are manufactured in six main production plants in Maulburg (Germany), Chevenez (Switzerland), Virginia Beach (USA), Crewe (United Kingdom), Liberec (Czech Republic) and Yongin City (South Korea).
Busch remains a family-run business to this day, and it is now in the hands of the second generation. Its sights are still firmly focused on the future. The celebrations for the company anniversary started earlier this year at the Busch sites in the Far East. Following the course of the sun, the celebrations will move around the world, reaching the Busch headquarters in Maulburg, Germany, and then continuing on to the American sites later in the year, where the final celebrations will take place.