Xylem Helps Heal Verona Hospital Water Woes
Given the importance of a hospital within any social infrastructure, it is imperative to keep all technical and mechanical functions running seamlessly to avoid any impact on staff and, most importantly, the patients.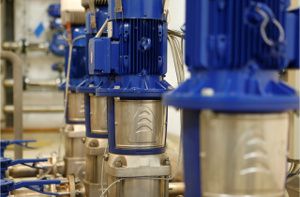 Lowara GHV series (Image: Xylem)
Based in Verona in Northern Italy, the Borgo Roma Hospital is part of the Verona 'Hospital Trust' which employs over 5,000 staff and treats 1,300 patients across two sites in the city each day.
In the summer of 2011 the Borgo Roma Hospital suffered a significant setback when drought hit the area and its water supply, provided by the local authority, was unable to support the hospital's demands.
In order to prevent a similar situation occurring again, no chance was taken. Xylem, was approached by the hospital's management company, Cofely GDF Suez. The brief was to provide high-quality and efficient water storage and booster facilities to ensure that all areas of the hospital could be supplied with water 24/7, regardless of weather conditions.
With these stringent requirements in mind, Xylem recommended its Lowara GHV booster sets. The Lowara GHV series are fully automatic booster sets for commercial water supply; the perfect fit for the Borgo Roma Hospital. They are equipped with between two and four variable speed pumps with a Lowara Hydrovar pump controller; pressure transmitters; and control panel, all mounted on a frame for easy installation. The hospital chose to install two of Lowara GHV series booster sets.