Wilo-Smart Control SC-Lift
Wilo creates new freedoms in designing remote control systems: the Wilo-Smart Control SC-Lift switchgear offers a new level of transparency along with the advantages of proven "red-button technology" and user-friendly "Smart Control" menu navigation.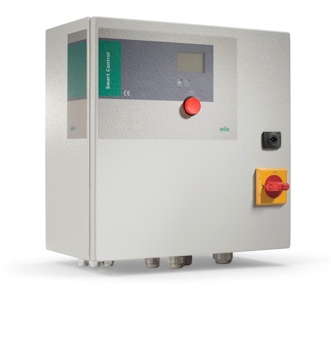 Wilo-Smart Control SC-Lift: The "straightforward" switchgear for reliable and compatible solutions (Source: Wilo)
More transparency and user-friendliness
This controller for water and sewage lifting systems with up to four pumps features an extremely user-friendly interface with a large, clearly structured display thanks to the cross-application, icon-driven menu navigation common to all Smart Control switchgears. The multi-line display boosts transparency by displaying current operating statuses and allowing the user to view individual operating parameters. With ModBus or GSM, Wilo-Smart Control SC-Lift can be integrated into remote control systems so that users can remotely access operator parameters or the pump controller. Alternative versions allow for direct connection of pumps and level sensors in potentially explosive environments without the need for additional accessories.
Saving times optimises everyday workflows
Because it is so easy to use, the new switchgear is ideal for consultants for building and municipal applications. Water levels are detected using either float switches or level sensors, allowing for much easier management of multiple pumps. This saves a lot of time and optimises workflows.