Wilo Releases New Horizontal Split Case Pumps
Wilo USA announces the release of its horizontal split case pumps, available in 64 models to meet the requirements of multiple applications and industries.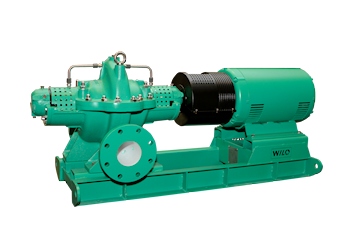 New split case pump (Image: Wilo USA)
The Wilo SCP product line meets the requirements for heating and cooling systems, municipal water supply systems, transfer and pressure boosting, irrigation and boiler/feed condensate, as well as other industrial applications.
The SCP line includes a range of sizes up to 500HP, heads up to 750 feet, flows up to 15,000 GPM and a temperature range of 18°F to 250°F (-8°C to 120°C). The horizontally split casing allows replacement of bearings and the mechanical seal without disturbing the system piping, and a double suction design is available for maximum efficiencies.
Other advantages of these pumps include: hydraulically balanced double-suction impeller for minimal axial thrust; a tongue and groove neck design that eliminates rotating assembly seizing; and permanently lubricated single-row bearings.