Watts Partners with Planet Water Foundation to Bring Clean Water to Thailand
Watts Water Technologies – a global manufacturer of plumbing, heating, and water quality products and solutions – recently funded and helped install two water filtration systems that provide clean drinking water for children and families in Sa Kaeo, Thailand.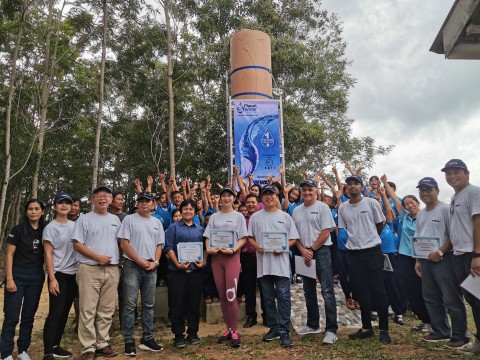 Watts employees, customers and Planet Water recently built two "AquaTowers" at two schools in Sa Kaeo that collectively provide 2,000 people with 20,000 liters of clean water daily. (Image source: Business Wire)
Through its partnership with Planet Water Foundation, a U.S.-based non-profit organization that works to bring clean water to the world's most impoverished communities, Watts employees and five of its customers built "AquaTowers" at two schools inside the Sa Kaeo province. The towers remove harmful particles, bacteria and viruses, providing 1,000 people with 10,000 liters of clean water per unit daily.
"We are proud to put our talent and resources behind Planet Water's effort to abolish global water poverty one community at a time," said Robert J. Pagano, Jr., CEO and President of Watts.
Watts employees from its North Andover, MA, USA, Shanghai, China and Seoul, Korea offices worked with volunteers from Thailand-based ITP Power to help erect the towers at the Bann Song Kae and Bann Wang Dang primary schools.
Watts first joined forces with Planet Water in 2016. Since that time, the organizations have brought clean water to 15,000 people in Cambodia, China, Colombia, India, Indonesia, the Philippines, Thailand and Puerto Rico.