Water Recirculation Pumps With Flow Optimized Pump Casing
The new water recirculation pump SMK from Schmalenberger with its flow optimized pump casing, is the economic response to rising energy prices. This multi-talented pump can be used anywhere, where maximum efficiency and maximum performance i.e. with swimming pool attractions, counter current and in the bathing water circulation are needed.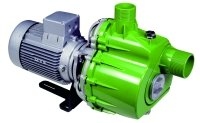 Water Recirculation Pumps SMK (Image: Schmalenberger)
This type of pump handles so-called liquid-gas mixtures with an air content of up to 15%. The SMK is self priming and works in snore. It can thus be easiliy installed above the water level.
The SMK is made of corrosion resistant, high strength salt water resistant synthetic fibres, has a light weight, compact design and is easy to install. Low noise and reduced vibration properties are another plus. The SMK can handle capacities up to 55 m³/h and a head of up to 17 m. The applied drive opens up a wide range of applications. The SMK comes with motors in IE2 or IE3 class with top-mounted variable frequency drive. As an option, there is the Safe and ProtectPump ControlG3 system to monitor and increase the life of the seal. The variable frequency drive can be programmed individually or comes with a preset speed range.
Because of its robust design, this pump is perfect for public baths, but also for hotels and private baths.