VSX Website Captivates With New Design
The specialist for pump selection software VSX – VOGEL SOFTWARE presents its new web presence.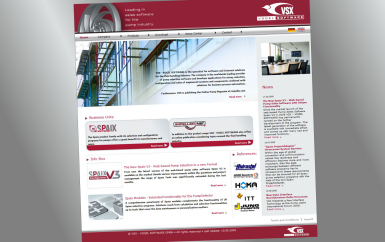 Since June 2009 the completely revised and newly designed corporate website of VSX – VOGEL SOFTWARE is online. (Image: VSX – Vogel Software GmbH)
Since mid-June 2009 VSX – VOGEL SOFTWARE, the specialist for software and Internet solutions for the pump industry, presents its company information on the completely revised and newly designed corporate website (www.vsx.net). The webpage provides besides the new layout - that now appears in the corporate colors - a detailed overview of company and product information. Additionally, the menu navigation was significantly improved and offers therefore more transparency and convenience for navigation and information search.
Right on the home page the user gets a first overview about the different business units within the company. So information about the Spaix software solutions as well as the Internet portal impeller.net on which the Online Pump Magazine is published can be separately retrieved.
Moreover, an Info Box at the start screen informs visitors in time about the latest developments at VSX – VOGEL SOFTWARE. The Info Box provides news about current projects, planned product launches or general company news.
Within the newly integrated Download Center detailed product information like brochures and manuals as well as demo versions can be downloaded.
Furthermore, the new Press Area provides a compact platform where journalists have direct access on current and archived press releases of the company.