Vogelsang Presents New Series of the XRipper Twin-Shaft Grinder for Wastewater Channels
Vogelsang will present the new generation of the twin-shaft grinder XRipper.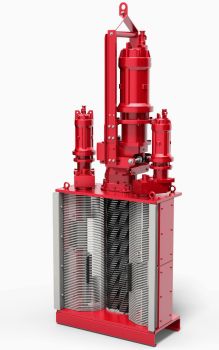 Vogelsang XRipper Giant (Image: Vogelsang GmbH & Co. KG)
"Wet wipes, disruptive matter and in some countries, mounds of fat, block pumps and entire channels. This poses major challenges to those in charge of the systems," says Managing Director Harald Vogelsang. "With the new XRipper Giant (XRG) series, we are offering effective shredding solutions, even for large channels and very high flow rates." One new feature is that the one-piece Ripper rotors, up to a length of 1.4 m, are produced from a single piece; moreover, the support shaft is no longer required. This also applies to the new, extra narrow and long model in the XRipper XRC100 series.
Monolithic, one-piece Ripper rotors with new design
Without the support shaft, servicing and exchange the one-piece Ripper rotors are particularly easy, since only two rotors have to be replaced. For this purpose, the central functional unit – consisting of motor, gearbox, Ripper rotors and counter bearing – is pulled upwards out of the XRipper housing. Individual components can be replaced quickly and easily on site. "Despite the new design, the one-piece Ripper rotors remain extremely robust and efficient," says Vogelsang. Due to the bending strength of the one-piece Ripper rotors, an intermediate bearing for stabilization is no longer required and its lubrication is no longer necessary.
Models for large channels with high flow rates
The XRipper Giant (XRG) is specially designed for very high flow rates in large channels. It easily shreds disruptive matter in wastewater at flow rates up to 3,000 m³/h. The twin-shaft grinder is based on the proven XRipper Channel (XRC), to which lateral High Capacity Units have been added. Each of these comprises a sieve as well as clearing units that rotate at low speeds, which enhances their efficiency. Disruptive matter is retained by the sieve and continuously feed into the Ripper rotors by the clearing units.
Powerful performance, minimum space requirement
The extra slim models of the XRipper XRC100 series are suitable for narrow, high channels, among others. They can be installed in channels with a width of only 30 cm and achieve throughput of up to 690 m³/h at damming heights of up to one meter.
Wastewater 4.0: Control system for network components
The new Performance Control Unit (PCU) enables intelligent networking of the various components in a wastewater system. This enables data to be collected and evaluated and appropriate measures to be initiated on the basis of simulation results. ProfiNet connection and an OPC-UA interface enable rapid, platform-neutral communication from machine to machine (M2M) as well as between man and machine – thanks to the Human Machine Interface (HMI). "With the PCU, we are offering another piece of the puzzle toward increased automation and digitization of wastewater processes," says Vogelsang.