ViscoTec's Modular Dispenser Provides Unique Serviceability
The modular preeflow dispenser impress with their simplicity in terms of disassembly, cleaning and maintenance and greatly reduce the service hours of the end customer and operator.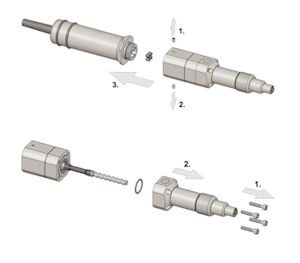 eco-PEN300 (Image: © 2014 ViscoTec Pumpen- u. Dosiertechnik GmbH)
The dispenser consisting essentially of two modules, the drive unit and the dosing unit. Both components can be dismount by two screws from each other. The dosing unit is the relevant part in case of services because the drive unit is completely maintenance free. There are only 4 screws to unloose and dismount the dosing unit, then this component is completely disassembled and ready for service by the operator. The dosing unit itself consists of three modules, the sealing package, the bearing housing with rotor string and the pump housing with end piece. All parts are designed nearly free of dead space to clean with the simplest means, for example with commercially pipe cleaners, the entire dosing unit in just a few minutes. A preeflow dispenser is completely disassembled and cleaned under 5 minutes. This intuitive and simple modular design of the entire dispenser makes it so unique in the market and even changing an ordinary printer cartridge takes generally more time.
These slight time and cost intensive maintenance expenditures increase the overall system availability and reduce the overall cost of the service.