Vertical Turbine Pumps for Iraq
APE Pumps a Division of PSV Holdings will dispatch the 4th vertical turbine pump, complete with 1300kw motor to a water project southwest of Bagdad.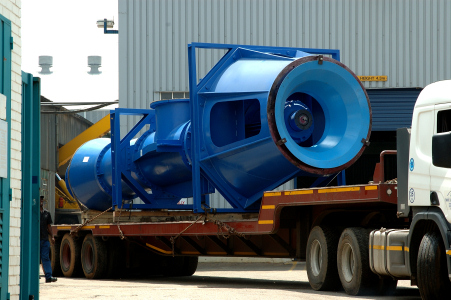 PSV Holdings
Dave Johnson PSV Holdings Business Development Manager says the pump is a 1 600 mm (42") single vertical turbine pump, priced at R7million, designed to pump 4 000l/s to a head of 20m.
These pumps are the largest manufactured by the South African company based in Wadeville, south of Johannesburg.
At a length of 20 mts. & weighing in at 36 tons, they will be fitted with a 1 300kw, 420 rpm motor.
Apart from the casing the pump is constructed of stainless steel throughout to reduce corrosion by water pumped at the high Iraqi ambient temperatures of around 50 deg C.
A coating of corrosion resistant material protects the cast iron casing.
The multi-billion US$ project is for the rehabilitation of existing canals and pumping stations to deliver water to nearby populated areas around Bagdad.
These APE vertical turbine pumps will replace obsolete pumps within an existing pumphouse and were designed to fit existing pipes, sumps and foundations says Johnson.
The order which was placed on APE Pumps by an International company based in the USA includes a very comprehensive set of spare parts.
November 28 the pump will be loaded onto a low bed and transported by road to Durban port. It will leave on December 5th to the port of Umm Qasr and then by road to Bagdad.