Variflow Centrifugal Pumps Now With Premium Efficiency IE3 Motors
As of now GEA Tuchenhagen-Variflow pumps will be delivered with premium efficiency AEG Lafert IE3 motors as a standard.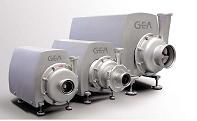 Variflow Centrifugal Pumps (Image: GEA Tuchenhagen)
With this GEA Tuchenhagen is fulfilling the eco-design requirements subject to the regulation EC No. 640/2009 well ahead of deadline.
That way customers will immediately profit from the economic advantages of the premium efficiency IE3 motors. Thanks to the higher efficiency of the motors operating costs can be reduced leading to lower total costs of ownership for the pump.