TurboTides Turns Tides with New Website
TurboTides, Inc., provider of state-of-the-art turbomachinery design technology, announces that it has launched a long-awaited new website.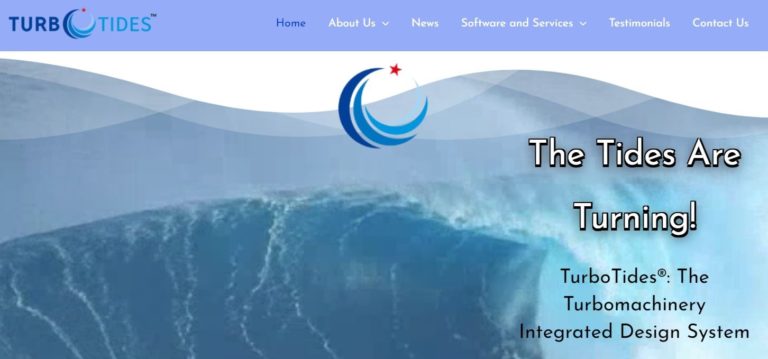 Turbomachinery design integration software system developer rolls out its new site to empower design engineers in taking full advantage of the industry's first seamless, integrated, all-in-one platform in a single or multi-user environment. (Image source: TurboTides Inc.)
Designed for turbomachinery engineers to deliver the information needed to take full advantage of the industry's first highly integrated, single or multi-user all-in-one turbomachinery design system, the new site features information on managing all aspects of design which include: a consistent three-dimensional (3D) geometry definition shared by all modules from one-dimensional (1D) to computational fluid dynamics (CFD) and finite element analysis (FEA). Visitors of TurboTides.com can gain access to engineering support services and now learn more about the many ways the software system enables compressor, turbine, pump, and fan design and development. The site also contains customer testimonials that provide insights for more informed purchasing decisions.
"We are thrilled to debut our new company website to our clients, resellers and potential customers who are looking to understand the many ways that the TurboTides integrated design system is superior to its competitors," said Scott Hanratty, vice president of global sales for TurboTides. "We look forward to adding to the site over time with even more information to enable turbomachinery engineers to cost-effectively and efficiently deliver winning projects."
In July 2020, the company announced that its TurboTides 2020 Annual Release was shipping with upgraded turbomachinery design and analysis features and enhancements that provided key capabilities, including stage and components-level data reduction, powerful volute modeling, multi-segment CAD import, secondary flow path modeling and flank milling features. The software is continually updated and is available via the company's worldwide sales office and authorized distributors.
Interested parties are encouraged to visit TurboTides.com frequently as new waves of features and capabilities, including data sheets and technical briefs, come rolling out.