The All-New Watson-Marlow 400 Series: Compact Precision
The 400 F/A by Watson-Marlow is the newest pump in the 400 series range of pumps. It is the smallest peristaltic pump in the market.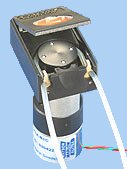 The new 400 series
This instrument quality pump comes in a previously unseen size :31 x 48 mm (1.2"x 1.9"), has flow rates from 30 µl/min to 30 ml/min and precision dispenses down to one microliter.
All 400 series pumps are built by Alitea in Sweden, and offer instrument-quality ultra-compact precision. All are made for scientific applications, and provide a choice of single and multi-channel pumpheads. The pumpheads are precision machined and feature compression adjustment allowing high accuracy and repeatable flow rates.
Manual and auto-analog speed control and remote switching options are provided for all drives, and the pumpheads accept standard 1.6mm wall tubing or manifold tubing.