Tencarva Machinery Company Consolidates Three Division Offices
Tencarva Machinery Company, nnounces the recent consolidation of three divisions into a new 12,000 square-foot office/warehouse building in Oak Lake Industrial Park in Midlothian, Va., according to Rod Lee, president of Tencarva Machinery Company.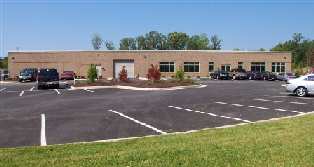 The new branch office building for the Richmond area is located in Midlothian.
"We are very pleased to get all of our Richmond area team in one location. They have done a good job in coordinating their activities to date, and I'm sure that the more frequent contact and easier communications will enhance the teamwork," Lee explains. "The new site is also more convenient for most of our people, and the modern service and shop facilities should enhance our customer service capabilities in Richmond."
Ten employees from the former Tencarva Richmond office are now housed together with the six employees in the Engineering Equipment Division and one in the Tencarva Municipal Division (formerly the emory-Wilson Municipal Division) at 12200 Wilfong Court in Midlothian, Va. In addition to Wayne Tatum, vice president of sales for Virginia and Maryland, leadership in the three divisions includes Steve Newsome as the Tencarva Division branch manager, Dave Mathers as the Engineering Equipment Division manager and Tom Thomas as the Municipal Division sales engineer, handling central and eastern Virginia.
The groundbreaking was in December 2006 for construction on the new facility, which has about 4,500 square-feet in office space and the remaining 7,500 square-feet in warehouse. The building was completed in mid-July, with the Richmond Tencarva office relocation beginning on July 15, 2007, followed by the other two divisions on July 18, 2007.
Constructing a facility designed specifically for Tencarva has its advantages, Tatum says, "We were able to layout the offices in a design suited to our workflow, plan a work area for handling small equipment package assembly and develop a Pump Shop customized for pump repairs. Our new training/conference room allows us to have seminars or training sessions for up to 20 people. In fact, we already have a Wilden pump seminar and a Gorman Rupp pump customer training event scheduled in November."
In addition, Tatum continues, "We are sharing knowledge and making joint calls with each other. The cross-pollination enables us to mix equipment on a job and bid jointly as appropriate."
About Tencarva Machinery Company
Tencarva Machinery Company is a distributor specializing in liquid process, compressed air, vacuum equipment and custom-designed systems for the industrial and municipal marketplace. Tencarva is dedicated to providing the highest quality process machinery, coupled with superior customer service and integrity.
Tencarva Machinery Company recently was ranked 46th by the national publication, Industrial Distribution, in its "Big 50" list of top U.S. headquartered distributors, based on sales and earnings.
Founded in 1978, Tencarva Machinery is committed to providing superior service by supplying innovative engineering assistance, professional equipment selection, competitive deliveries and parts availability, and preventive maintenance and repair services to all its customers. Tencarva has 22 branches in eight states, including Arkansas, Florida, Maryland, Mississippi, North Carolina, South Carolina, Tennessee and Virginia.