Tencarva Machinery Company Acquires Assets of Pump Technology & Solutions Inc.
Tencarva Machinery Company, a distributor specializing in pumps, liquid process, and custom-designed systems for the industrial and municipal marketplace, recently acquired the assets of Pump Technology & Solutions Inc. (PTS), in Cumming, Ga., according to Rod Lee, Tencarva president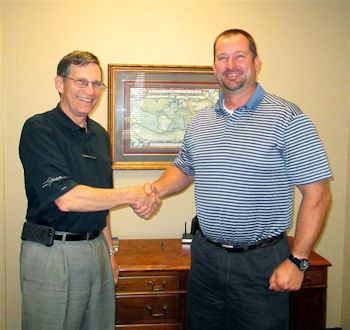 (From left) Rod Lee, Tencarva president, meets with Chris Brooks, former owner of Pump Technology & Solutions and new Tencarva branch manager (Tencarva Machinery Company)
On July 27, 2013, Tencarva purchased Pump Technology & Solutions Inc., a full service pump distributor and manufacturer s representative in Georgia, which will operate as a branch within Tencarva s GPM Division.With the acquisition of Pump Technology & Solutions, Chris Brooks, founder and owner of PTS, will be the manager of an industrial branch, which will be located in the existing facility in Cumming.
Lee explains, "Chris has built a remarkable business primarily around the seepex product line. Chris will be sharing his seepex expertise with our GPM Division team while he broadens the business of his branch through the addition of our Tencarva product lines." Other PTS employees becoming a part of the Tencarva team are Randy Eccles, outside sales; Matt Wilbanks, inside sales; and Traci Enright, administrative assistant. Lora Brooks has been handling the accounting work part time and will assist over the next few months in the transfer of this work to Tencarva Administration in Greensboro, N.C.. Lee emphasizes, "PTS is a great fit for us in Georgia, because they focus on accounts that are largely uncovered by our existing sales force." Chris Brooks adds, "We are very excited to become part of the Tencarva team. Tencarva s outstanding reputation throughout the pump industry and their excellent product offering made this an ideal fit for us."
PTS was founded in 2006 to provide customers with engineered solutions for their pumping needs. The company serves a wide range of industries in Georgia including alternative fuel, automotive, chemical, food and beverage, mineral processing, O.E.M., pharmaceutical, plastics, poultry, power generation, pulp and paper, and wood products. In addition to pumps and pump systems, PTS distributes mixers, flowinstrumentation and mechanical seals. They also offer repair and troubleshooting services.
The new GPM Division Tencarva Branch Office is located at 4325 Settingdown Circle, Suite 104, Cumming, GA 30028.