Tapflo – The journey began 40 years ago in Sweden.
In 2020 Tapflo Group is celebrating its 40th anniversary as a manufacturer and global supplier of air operated diaphragm pumps, centrifugal pumps, and other industrial process equipment.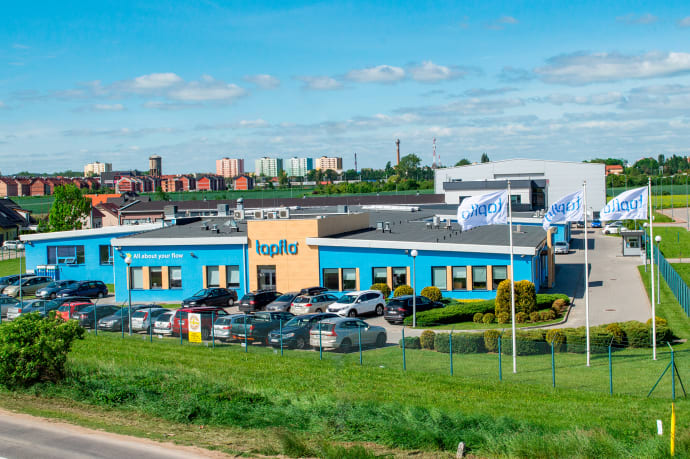 Tapflo factory
The family-owned company was founded in Kungälv, Sweden in 1980 by Börje Johansson and Hans Emanuelsson. Then, a small supplier and agency of various industrial pumps on the Swedish market. Today, a global business group present in most of the world and one of the top manufacturers of industrial pumps on the market, Tapflo.
Throughout the past 40 years, Tapflo has provided clients with pumps and premium products for numerous industrial applications and has taken pride in being different. Organic growth and product development have been key factors to the success and the development of Tapflo Group, with branches and distributors present in nearly every region of the world.
"In the beginning when we couldn´t find a great diaphragm pump on the market, we decided to build one. We started in a garage in Gdańsk, Poland. We didn't have enough space to grow so we decided to move 40 kilometres to the city of Tczew and now we have one of the best modern machine park in our industry with representation around the world. We´re probably one of the few pump manufacturers who is processing mostly of its own parts, it has been like that from the start and it still makes us unique from competitors." – says Börje Johansson, founder, and owner of Tapflo Group
To mark the 40th anniversary Tapflo will release special internal and marketing activities as well as new products launches during the year.
"We have come a long way since I first set foot at Tapflo in 1992 and the future looks really bright. Like recent years we´re planning new product releases in 2020 and I´m looking forward to having the same endurance with our new products as we have had with our popular diaphragm pumps. – Concludes Håkan Ekstrand, CCO of Tapflo Group.