Swedish Drive Solutions Introduced in Turkey Through New Emotron Partner
13.05.2009
Emotron drive solutions are now introduced in the Turkish market through a new distribution agreement with Kontek. The cooperation comprises the sales of the entire Emotron product portfolio as well as the support of local customers.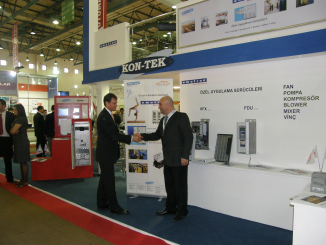 Emotron drive solutions were introduced on the Turkish market at the Win Otomasyon exhibition in Istanbul in February 2009.
For Kontek, the Emotron crane control concept was a decisive factor for choosing the Swedish company as their new supplier.
Kontek is a leading automation and drives company offering products as well as complete project solutions in Turkey and Northern Africa. Kontek and Emotron both focus on specific application areas such as pumps, fans, compressors, crushers and cranes.
The official introduction in Turkey took place at the Win Otomasyon exhibition in Istanbul in February 2009. Sven Andersson, Regional Sales Manager at Emotron, and Tolga Murat Özdemir, General Manager of Kontek, were both very pleased with the great interest shown for Emotron solutions.
Crane offer decisive for choosing Emotron
When searching for a new drives supplier, Kontek evaluated the options available on the market. Emotron was chosen for several reasons. One was the complete portfolio of variable speed drives, softstarters and shaft power monitors and the fact that the products are developed for the specific application areas in which Kontek is active.
"Emotron variable speed drives will be a strong compliment to our offer, above all for high power applications," says Tolga Murat Özdemir. "We also appreciate the IP54 classification which means the products can withstand harsh environments."
The fact that Emotron has more than 20 years of experience of cranes and has developed a complete concept for crane control was also a decisive factor for Kontek. The concept is based on the Emotron VFX variable speed drive with direct torque control.
"This is an important business for us and the special crane functions of the Emotron concept will add value to our offer," says Tolga Murat Özdemir.
Training sessions for sales and service personnel
The distribution agreement was signed in the beginning of 2009. The two companies have held several meetings in Sweden as well as in Turkey, for example with 25 salespersons from Kontek attending Emotron product trainings. The next plans are training for service personnel and crane training sessions at the Emotron crane centre in Germany.
"We look forward to the cooperation and see Kontek as a very strong and competent partner for us in this market," says Sven Andersson. "Sales and delivery to end-customers have already started with Emotron products up and running in Turkish water/wastewater plants."
About Emotron
Emotron is a Swedish company which develops solutions for protecting and controlling processes and equipment driven by electric motors. Customers benefit from energy savings, reduced maintenance and improved productivity. Targeted industry sectors are water/wastewater, machine builders, mining, cleantech, infrastructure and process industry. The product portfolio comprises variable speed drives, softstarters and shaft power monitors.
Emotron focuses on three selected application areas:
Flow control – pumps, fans, compressors, blowers
Material handling – cranes, crushers, mills, mixers, saw mills, conveyors
Lift control – passenger lifts
In the last 30 years Emotron has grown to become a global group with 170 employees and a turnover of 40 million euros. Development and manufacturing resources are located in Sweden, the Netherlands and Germany. The company has its own sales organizations in Sweden, Benelux and Germany, offices in China and Latin America, and a worldwide network of distributors and service partners.