Sulzer Expands Sales and Aftermarket Business with New Facility in Denmark
Sulzer is expanding its presence in Denmark with the construction of a new service center that will provide its full range of product sales and maintenance services throughout the region, all from under one roof. The new facility will join Sulzer's global network of service centers that work together to deliver local support backed by worldwide expertise.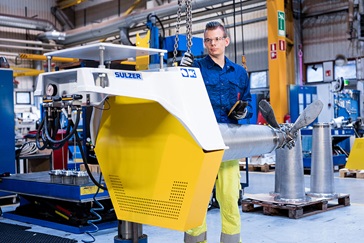 Sulzer opens new facility in Denmark (Image source: Sulzer Management AG)
The new service center will create synergies in sales and maintenance processes and will enable customers to realize improved efficiency, sustainability and cost-effectiveness in their operations, in line with Sulzer's stated goals for sustainable development. The new facility is centrally located in Middelfart, Denmark, with excellent transport links to many of Sulzer's key customers in markets that include water and wastewater, pulp and paper, oil and gas as well as chemical processing. It will provide businesses with access to new equipment sales in addition to services for pumps, electromechanical equipment and turbomachinery. It will also offer a conveniently located base for Sulzer's growing team of field service engineers.
Daniel Bischofberger, Division President Rotating Equipment Services at Sulzer, adds: "This new facility is the latest in a rapidly expanding network of Sulzer service centers. They have a proven role in helping the company to develop closer relationships with customers across the globe and increasing distribution efficiencies for spare parts."
The purpose-built 1,728 m² service center will include some 1,300 m² of workshop space, helping Sulzer to optimize workflow and ensure fast turnarounds on projects, providing an efficient service for customers.