Stuart Turner Expands AQUABOOST iBOLT Range with Triple Pump Booster Set
In the latest addition to its AQUABOOST range of cold water booster sets, expert pump and water boosting solutions manufacturer, Stuart Turner, has added a triple pump variant to its established AQUABOOST iBOLT line of variable speed booster pumps and pump sets.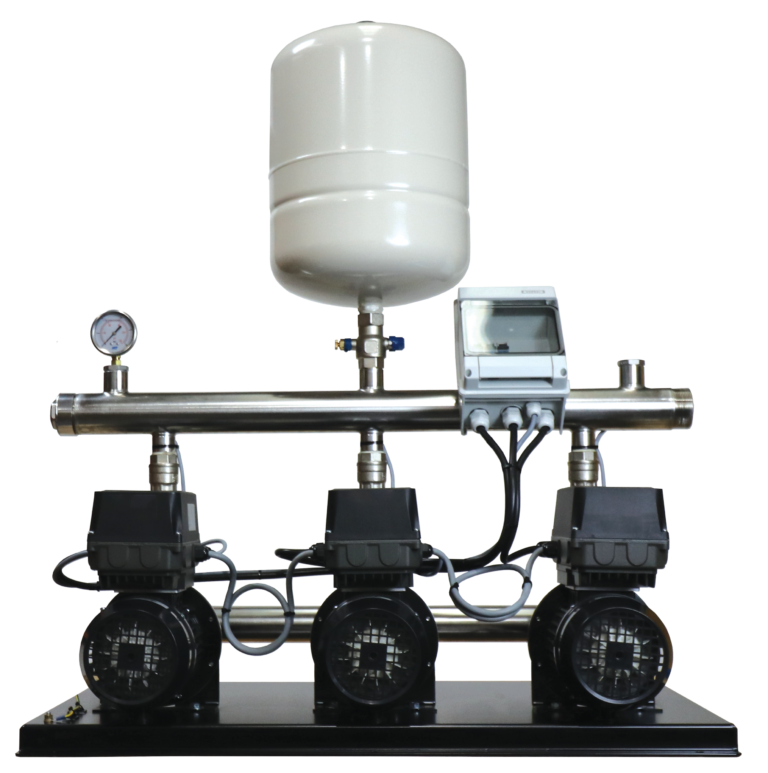 (Image source: Stuart Turner)
The NEW AQUABOOST iBOLT triple pump booster set perfectly complements Stuart Turner's existing single and twin pump ranges and can produce heads of up to 9.2 bar and flow rates of up to 45m³/hr.
Designed to be high performing and intuitive to commission, the AQUABOOST iBOLT range offers constant water pressure supply where flow demand varies
AQUABOOST iBOLT high head, cold water pressure and flow boosting solutions are ideal for residential and commercial applications
The expanded AQUABOOST iBOLT range now offers flow rates of up to 45m³/hr
The entire AQUABOOST iBOLT range features Regulation 4 WRAS-approved, 304 stainless steel horizontal multistage pumps controlled by air-cooled variable speed frequency inverters mounted directly on the pump motor. This use of state-of-the-art technology improves energy efficiency and reduces running costs when compared to fixed-speed systems.
All AQUABOOST iBOLT pump and booster sets feature Regulation 4 WRAS-approved lever ball valves and BMS volt-free contacts, while the new triple pump booster set incorporates a Regulation 4 WRAS-approved 24-litre pressure vessel, providing an added buffer of pressurised cold water to supplement pressure and flow.
With most models in the AQUABOOST iBOLT range available ex-stock and short lead times on non-stock variants, the excellent availability of the pumps and booster sets minimises project delays.
Thanks to Stuart Turner's innovative use of QR code technology, which has seen the company reduce paper usage by 11 tonnes in two years by eliminating paper manuals from two product ranges, the AQUABOOST iBOLT range is intuitive and easy to commission. Installers simply need to scan a QR code on their mobile phone and it directs them to the O&M Manual for the relevant product information.
Reflecting Stuart Turner's reputation for excellent product quality, reliability, and customer service, the AQUABOOST iBOLT range is supplied with a two-year warranty, giving peace of mind to installers, specifiers and end-users.