Upgrade of BWT Pumps Saves Both Money and Environmental Impact
Adhering to environmental regulations, FAYARD recently installed a Ballast Water Treatment System from Alfa Laval. The new system was installed on deck and a larger water pressure than available on board at the time was required. Consequently, the existing two IRON ballast pumps needed either to be replaced or upgraded.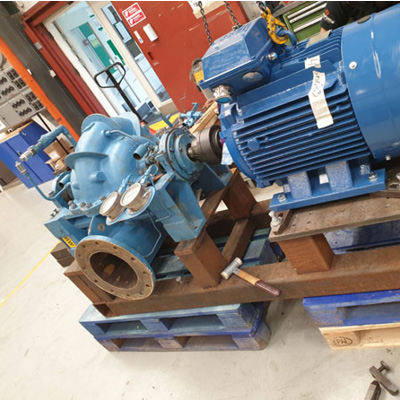 Pump in IRON workshop. (Image source: IRON Pump A/S)
The two pumps were originally purchased in 2002 and are a good example of the durability of IRON pumps if regular maintenance is performed. Even after 19 years, the pumps were in such good shape that renewal was unnecessary.
The two ballast pumps were upgraded to meet new capacity requirements increased from 550m³h/ 20 mLc to 550m³h at 38 mLc.
Just a fortnight in the repair yard allowed a short time frame for the pump upgrade. The pumps received great attention in the workshop where requested parts were in stock and ready for mounting and the complete work was finalized in only one week, including class from LR.
After delivery and installation on board, IRON Service Manager, Per Gudmand Jensen and IRON CTO Tommy Andersen, visited the ship and the newly installed IRON pumps.
By upgrading the existing pumps, the BWT now runs efficiently and the choice of upgrading instead of manufacturing entirely new pumps for the purpose, saves both money and environmental impact.