Split-Coupled Vertical In-Line Centrifugal Pump
Bell & Gossett has introduced their new Series 80-SC split-coupled vertical inline centrifugal pump -featuring a space-saving design and easy maintenance - for a wide variety of HVAC applications.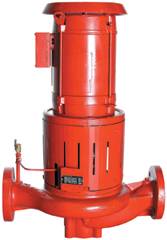 80-SC split-coupled vertical inline centrifugal pump (source Bell & Gossett)
Boasting heavy-duty performance and superior operating efficiency, the Series 80-SC's vertical configuration allows it to fit in tight spaces to support hydronic heating and cooling systems, industrial processes, pressure boosting, and general service needs. The pump assembly is quickly installed on an integrally cast support ring, located on the bottom of the volute.
The Series 80-SC pump features an axially split high-tensile aluminum spacer coupling that permits seal maintenance without disturbing the pump, motor or piping connections. This feature minimizes shaft run-up to less than 0.002 T.I.R. The mechanical seal can be removed between the gap in the pump and motor shaft when the coupler is removed. A wider access area in the Series 80-SC motor bracket also helps simplify seal removal.
The pump's combination motor bracket/volute coverplate assures positive concentric alignment of the motor to the pump casing and permits full 360-degree registration at both ends of the aligned union between pump and motor. The Series 80-SC comes standard with a C-face motor with an open, drip-proof enclosure, but is also available with optional vertical P-base or IEC motors.
The 80-SC stainless steel shaft provides high levels of corrosion resistance to pumped fluids, and its cast bronze impeller is balanced to ANSI grade G6.3 to deliver smooth operation for years of trouble free service.
The new pump also features a large cross section inlet to optimize low-noise performance and equally sized suction and discharge flanges for greater piping ease.
Standard 80-SC construction handles up to 175 psi working pressure with 125 ANSI flange drilling; optional 250 psi working pressure with 250 ANSI flange drilling is also available. The 6" and 8" models of the 80-SC include a split volute to minimize radial loads and extend pump life.
Other Series 80-SC features include:
A flushing line with a manual valve to remove air from the seal chamber and deliver cooling liquid to the seal for a fast initial start-up.
A standard inside EPR/carbon-ceramic seal for temperature ranges from –20 to 250 degrees F and pressures up to 175 psi. An optional EPR/carbon-tungsten carbide internal seal for open or closed clear water systems can handle temperatures up to 250 degrees F.
An optional heavy duty EPR/carbon-ceramic outside seal that can accommodate temperatures up to 250 degrees F and pressures up to 250 psi.
Optional flush line filters and sediment separators.
Bell & Gossett, a unit of ITT Industries, is a leading manufacturer of centrifugal pumps, hydronic specialties, heat exchangers, condensate handling equipment, and packaged systems for variable and constant speed pumping, heat transfer and pressure boosting.