Sololift+ – Full Range of Domestic Lifting Stations
Grundfos recently announced the launch of its latest line of lifting stations for private homes: The Sololift+ range. Specially designed to handle wastewater in private homes, the six different Sololift+ stations collect wastewater straight from the source and pump it away through small-bore pipe work to the main sewer.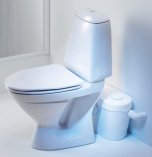 Different from the rest
Susanne Wiatr Borg, Product Manager at Grundfos, is clearly pleased with the new product line. "Obviously, we at Grundfos wanted to be able to supply a full range of lifting stations to meet all needs in private homes. But it was important to us that our versions offered something special compared to the other products on the market – that they had the Grundfos touch. We think we've succeeded."
Like other, similar products available today, the six new Sololift+ models allow homeowners to have new facilities installed wherever they want – a new bathroom in the basement, a toilet under the stairs, etc. – without needing the extensive pipe work often associated with such projects. But what makes Grundfos' version any different?
Says Susanne Wiatr Borg: "Well, first of all it should be pointed out that many homeowners may still be surprised by what can actually be done – and by how inexpensive it can be to make very real improvements to your property. Having said that, the Sololift+ stands out due to its quality: Like all Grundfos products, it is reliable, silent, and will last for many years with minimal service requirements. what the end-users will really notice is, of course, the design."
Attractive design
And indeed the design stands out. While many lifting stations are chunky, unsightly boxes, the Sololift+ units are compact, smooth, and far more stylish overall. "We think that homeowners shouldn't have to compromise on style in order to get the simplest solution to their needs," says Susanne Wiatr Borg, "so our lifting stations were designed to blend seamlessly into any interior." There is substance behind the style, however. "Of course, the design is not all about great looks," she adds, "the compact design also means that they are easy to install even where space is restricted. And small features such easy access to all vital parts is greatly appreciated by installers, too."
The six Sololift+ models are available from wholesalers throughout Europe now.