Series Production of the New IE4 Motor About to Start
End of March 2012, KSB Aktiengesellschaft, Germany, has started the series production of its high-efficiency SuPremE electric motor series at the company's factory in Halle on the river Saale, Germany.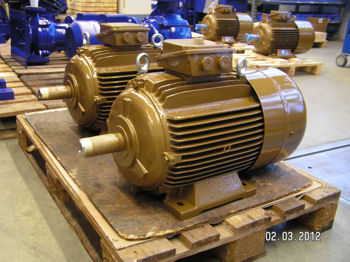 Production of the new KSB SuPremE motor at KSB s factory in Halle on the river Saale. (KSB Aktiengesellschaft, Frankenthal, Germany)
In contrast to conventional synchronous motors, the German pump manufacturer's motor does not contain any magnetic materials, such as rare earths, which are regarded critical raw materials and which cannot be mined without considerable environmental impact in the countries of origin.
Since the new drives no longer need failure-prone rotor position sensors, they are as robust and reliable as speed-controlled asynchronous motors. Because of the low temperatures within the rotor, the life of the new motors' bearings is even longer.
The motor, which was first presented as a prototype at the Hanover trade fair in 2009, is equipped with a four-pole rotor that only consists of a laminated core without a cage. The rotor laminations are specially shaped to guide the lines of flux.
Combined with the PumpDrive variable speed system, speeds ranging between 0 and 4,200 revolutions per minute are possible as a standard.
The new synchronous reluctance motors provide users with a technology that is ideally suited to also fulfil the future requirements energy-efficient drives of pumps will have to meet.
They have at least 15 percent less power dissipation than that prescribed by Regulation EC 640/2009 for efficiency class IE3 from 2015 or 2017, depending on the motor rating. This means that the motors reach efficiency level IE4 as per IEC/CD 60034-30 Ed. 2 already today.
In contrast to asynchronous motors, synchronous reluctance motors still have a good efficiency when they are not run at full load. But this is exactly what is very often the case in day-to-day operation practice, where many motors operated in speed-controlled applications mainly run at reduced speed.
KSB plans to supply the motors also to other manufacturers of rotating equipment.