Seepex Extends Smart Maintenance Concepts with Drive Joint Access for Open Hopper Pumps
The maintenance of these kind of pumps has been time-consuming and complicated in the past due to valves and hoppers obstruction access to the pump.To solve that problem Seepex is now introducing the patented Drive Joint Access (DJA) technology on some of their open hopper pump ranges, significantly reducing maintenance times and costs.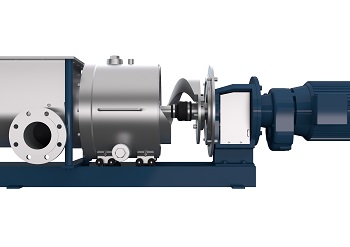 Drive Joint Access in Detail. (Image source: Seepex GmbH)
Between feed hopper and lantern a detachable joint casing is mounted on rollers, which allows access to the drive-side joint. Mechanical seal, plug-in shaft and drive can be quickly installed or removed on site - without removing the feed hopper, the screw conveyor or the rotor-side joint. "This simplifies the work and reduces maintenance and downtime from three to four days to less than one day, thus significantly reducing costs. A regular, simple and quick check, for preventive maintenance of drive side components whilst pump is in situ is now also possible at any time ", says Simon Lambert, Global Industry Manager Environmental at Seepex.
Depending on the range it is also possible to replace the ribbon screw without dismantling the feed hopper and compression zone. With DJA, the pump can now be dismantled from drive-side for the first time. The removal of components and the use of heavy hoists are a thing of the past:
"We are proud to introduce DJA as a new solution to make the operation and maintenance of our pumps as easy as possible," explains Dr. Christian Hansen, Vice President and CTO of Seepex. "The key to our success lies in our partnership with our customers. For them, we develop solutions that optimize their facilities, increase productivity and reduce operating costs. "
The advantages of Drive Joint Access at a glance:
In situ service:
No pipework removal, no heavy lifting equipment
Significantly reduced maintenance costs:
No disassembly of rotor/stator, screw and hopper
Preventive Maintenance:
Regular, easy and quick check of joint side components
Increased uptime:
pro-active inspection and maintenance of the drive-side parts ensures trouble-free operation