Scherzinger Introduces New Dosing Pump for an Extended Performance Spectrum
Scherzinger's latest addition to the Dosing Pump Range 2030 – 4030: Starting July 2011 the new series 5030 complements the existing product range and allows for a larger performance spectrum.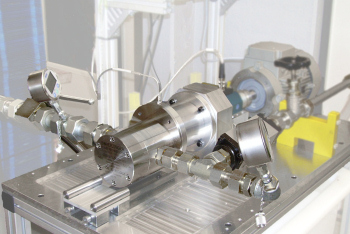 Testing of the Dosing Pump in the test field (Image: Scherzinger)
Scherzinger Pump Technology brings out a real energy packet on the market: the new Dosing Pump series 5030. Supplied with a magnetic coupling for hermetic sealing, the new pump transfers up to 50 l/min. Further design modifications like the simple adaptation of the pump with either metrical adapters G 1" and G 1 ½" as well as SAE DIN ISO 6162-1/-2 or DIN EN 1092 adapters ensure an easy installation in the user system. A pulsation-optimized gear geometry is the key for an exact dosing – an important characteristic for the chemical industry. In contrast to the old series, the new series 5030 is able to reach system pressures of up to 100 bar.
"Out of an economical point of view the 5030 is an attractive product for our customers as well", states Thomas King, General Sales Manager. "Due to the optimized design, we are able to offer the pump to a much better price – although we keep using only high-quality material."
Depending on the application the pump 5030 is available in stainless steel, hastelloy or titan. In order to guarantee a chemical persistency of the seals Scherzinger uses primarily FFKM seals. For most applications PEEK gears are chosen; for customized requirements stainless steel or W88 gears are offered as well. Bearings can be configured either in ceramics, carbon or technical plastics.
Furthermore Scherzinger equips all pumps with a wide variety of energy-efficient motors with the possibility to adapt to different pump sizes.