Santasalo's Launches Planetary Gears
Gear manufacturer, Santasalo, is pleased to introduce their new series of planetary gear units to the global industrial market. The new Quatro+ range offers higher torques without the requirement to increase the gear unit size or weight.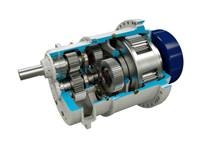 Quatro+ cutaway (Image: Santasalo)
In addition, an extended bearing life up to 200% higher than the original Quatro series, ensures enhanced availability of the gears and reduced operating costs.
The Quatro+ series offers nominal output torque up to 1,427 kNm, up to 30% increase on the torque of the original Quatro series but with no change to the size and weight of the gear unit. Its advanced design can be highly customised to meet the requirements of a vast range of applications in many industries.
Santasalo will showcase the Quatro+, for the first time, at the 2015 Hannover Fair in Germany this April. Experts on the Santasalo planetary product range will be there to represent the product launch and provide experience and knowledge on both the Quatro+ and all other planetary gears offered by the business. The business sees this as a great opportunity for customers and other interested parties to learn more about the benefits of this new, highly innovative and cost effective product series.
"Upgrading the power rating of Santasalo's original Quatro series has allowed us to provide our customers with a new range of drives that fulfill the most demanding high torque application needs. With the Quatro + series, we can deliver very cost competitive drive solutions for, not only new machines, but as a replacement of existing Santasalo Quatro drives and competitor gear units. We are excited to launch this advanced technology to the global market for heavy duty planetary gear units," said Pasi Jokela, Senior Vice President of Santasalo Capital Sales.