Robust Self-Priming Pumps for Optimum Reliability
The FreFlow range of self-priming centrifugal pumps have excellent self-priming abilities and are particularly suited to chemical and pharmaceutical applications which require safe and efficient transfer of low viscosity, contaminated liquids or those containing gas or air.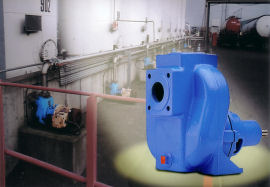 Available from JP Pumps (a division of the SPX Process Equipment Operation)FreFlow pumps are based on the proven and reliable injection principle, with a semi-open or closed impeller and a mechanical seal in the oil chamber. Their self-priming ability prevents the pump from running dry, which ensures smooth, easy operation, whilst also eliminating the need for a separate vacuum pump or other associated equipment. The design of FreFlow pumps eliminates the need for a non-return valve in the Inlet which contributes towards unparalleled reliability. This, combined with a back pull-out system and inspection/ cleaning cover, ensures easy maintenance because the pump does not need to be disconnected and removed from the pipework.
Other features and benefits include an oil chamber located behind the mechanical seal which lubricates the seal faces when priming, thus preventing the seal from running dry. This also helps to prevent crystallization between the seal faces, ensuring longer seal life and reducing the risk of process downtime. The FreFlow range consists of 20 pumps with connections from 32mm to 150mm, providing capacities up to 350m3/hr at heads up to 80 metres. Their self- priming ability is up to 7 metres and they are suitable for handling liquids with a viscosities up to 150 mPa.s. The basic pump is available in cast iron or bronze and a stainless steel version is ideal for handling aggressive, corrosive and environmentally harmful liquids. Typical applications for the pumps are in the chemical and pharmaceutical industries, oil, gas and electricity generation, paper, plastic, paint and metal finishing.
About the company
Johnson Pump is an international engineering group that has developed, manufactured and marketed pumps for many years. The experience, expertise and wide product range give customers confidence. Johnson Pump is an SPX Process Equipment operation since December 2006. SPX Process Equipment supplies fluid process solutions, metering and blending systems and industrial valves. Johnson Pump comprises a total of 13 marketing and sales companies and five production units. They are also represented by some 60 authorized independent distributors. Further details about the company are available at www.johnson-pump.com