Rivertrace Presents Products
Rivertrace produces a range of products that meet and exceed the I.M.O. resolutions MEPC 107(49) and MEPC 108 (49) relating to water discharges from ships.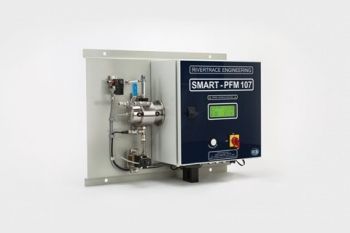 Smart PFM 107 Oil in Water Monitor (Image: Rivertrace)
The Smart PFM 107 Oil in Water Monitor measures particulates in the sample stream on a continuous basis by passing the process fluid through a proprietary photo optical measuring cell, developed by Rivertrace Technologies.
Using a combination of optical recognition algorithms and light intensity it is possible to differentiate between oil particles, gas/air bubbles and solid particulates in the range 0-500 microns. Unlike conventional monitors using light scatter or UV fluorescence, the PFM 107 requires no re-calibration if the oil varies from the standard calibration fluid making it an ideal monitor for offshore platforms, drill ships and FPSO's. Flow and particulate characteristics can also be visualised live via remote access and via optional dedicated software on any Windows PC.
Oil concentration, pressure, temperature and oil alarm status are displayed on an easy to read LCD touch screen display. Oil concentrations, alarms and any faults are logged and stored within the system to comply with the reporting requirements of IMO resolution MEPC 107(49) and can be accessed remotely or downloaded onto a pc via LAN or USB for further analysis. When connected to the internet it is possible for remote diagnostics to be performed by the manufacturer or an approved service centre.
The Smart PFM offers a choice of auto cleaning methods to ensure the accuracy is maintained at all times. Dependant of the utilities available you can choose from an air driven solenoid, electronic actuator or high power ultrasonic cleaning method. The cleaning is fully automatic and operates whenever the system senses contamination of the optical windows.
The Smart Turbidity Monitor utilises the "Smart Cell" Detector Array Technology, developed by Rivertrace technologies to accurately analyse the quality of the sample stream and outputs the turbidity value in nephelometer turbidity units (NTU). Turbidity is the cloudiness or haziness of a fluid caused by large numbers of individual particles that are generally invisible to the naked eye.
A manual cell cleaning device is included as standard to easily enable routine maintenance and prevent Optical cell fouling which is recognised as a leading cause of monitor malfunction or incorrect reading. By simple operation of the manual cleaning device, the measuring cell remains in optimum operating condition.
Replacement calibrated measuring cells can be purchased for easy change over and calibration verification kits enable the user to demonstrate the monitor is within factory calibration.
The Smart Turbidity Monitor is also available for Hazardous Area Environments classified as Zone 1 & 2.