Remote Monitoring for Wastewater/effluent Pump Station Packages
Designed to monitor the running of single and multiple pumps, together with the associated sensors and probes that ensure the correct operation of a pump station, the system consists of the easy and quick to install Nexus Smart Box (RTU) which employs wireless GPRS communications to transfer data from the pump station to Nortech's iHost WebSCADA.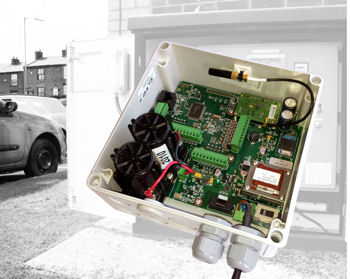 Nortech Smart Box can be simply installed in the pump station control panel (Image: Nortech)
When iHost receives urgent alarms from a pump station, it forwards these on as SMS text messages and emails to all nominated users, enabling prompt preventative and remedial action to be taken.
"The Nortech WebSCADA system is potentially the new standard for the forthcoming adoption of small pumping stations," comments David Johnson, Director of Sales & Marketing. "Operating a real-time pump station performance specification would supersede the traditional equipment specifications as a means to ensure performance and reliability. The costs savings nationally could be many thousands of pounds."
Nortech's WebSCADA Pump Station Monitoring System & Service is far more than a simple remote alarm monitoring system; it is a highly featured management tool that provides a constant stream of data about all the functions of the pump station. Events including pump stopped/running, pump healthy/tripped, and high level alarm are examples of digital outputs that provide information about key equipment and alarm conditions. Flow rate, well depth, temperature and vibration are analogue outputs that provide information for detecting changes in operational conditions.
Armed with this information, operators and contractors responsible for the management of residential, local authority, commercial and industrial pump stations can optimise maintenance services to achieve greater plant efficiency and manage operating costs. Equally as important, the availability of real-time accurate and recorded information enables them to take effective action to prevent system failures and potential environmental contamination. The system even has its own 24/7health check so that users know that they are always receiving notifications and accurate records for equipment trend analysis.
The WebSCADA Pump Station Monitoring System & Service is built around the capabilities of Nortech's Smart Box Remote Telemetry Unit (RTU) and long-established iHost WebSCADA. Supplied by the pump distributor/manufacturer or pump station manufacturers, connecting the Nexus Smart Box to the pump station control panel can be undertaken when the pump station is being installed or retrofitted to existing stations.