RainBank Selected as a Finalist for HIA GreenSmart Awards
Davey Products' RainBank was selected as a finalist for the Product of the Year 2005 of the GreenSmart Awards of the Australian Housing Industry Association HIA. GreenSmart are the only exclusive built environment awards in Australia.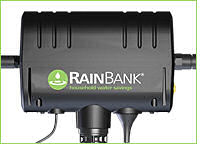 RainBank controller (photo: Davey)
They recognize outstanding efforts in developing cost-effective environmental solutions in the building, development and renovation industries.
Interestingly RainBank has been incorporated into a number of the winning entries into other housing design categories in the awards.
RainBank is an automatic controller for rainwater harvesting produced by Davey Products. Incorporated into the design of new homes or retrofitted to existing properties, RainBank controls the water supply for toilet or laundry applications by automatically switching the water source from the domestic mains to rainwater when a demand is sensed and rainwater is available in the storage tank.
According to the manufacturer's information, RainBank is the first product to use rainwater as the water supply for toilet and laundry applications in the metropolitan area and control it automatically. It can save up to 40% of a household's drinking water supply which is normally used in these applications, thereby helping conserve Australia's precious water resources.
Established in 1934, Davey manufactures pumps and pressure systems that today are exported to over 60 countries. The award-winning Davey product range features products for every application: domestic, rural, sump and drainage, pond and aquaculture, industrial, irrigation and pool and spa. The company is a member of the GUD Holdings Limited group.