PUMProtector™ Inlet and Universal Strainers
Johnson Pump launches new strainers to protect water-pressure system and wash-down pumps from damages caused by small particles.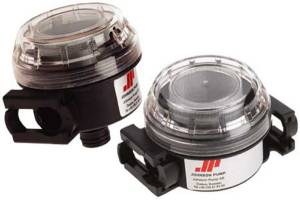 PUMProtector™ Inlet and Universal Strainers (source: Johnson Pump)
Keeping small debris out of a water-pressure system can prevent a dramatic pump breakdown. Keeping the water clear of minute particles can also prevent unpleasant surprises in the galley when the tap is turned on. PUMProtector™ strainers from Johnson Pump are designed to prevent both the catastrophic and the simply annoying consequences of untrapped solid particles.
A new inlet strainer is now being introduced specifically for the AquaJet™ line of water-pressure system and wash-down pumps; and a new universal strainer -- as the name would suggest -- has been designed for use with virtually any small-boat or recreational-vehicle (RV) pump on the market.
Both can be used in fresh, salt and gray water applications and they share a variety of advanced features.
Innovative design means paying attention to the details
PUMProtector™ strainers have transparent covers that make it easy to inspect the stainless-steel filter traps inside without even opening the unit. These covers can be twisted off with one hand. When the unit needs to be removed or replaced, a large variety of KlickTite™ port connectors are available for every standard hose and thread size used in small boats and RVs today. The new design and connectors make it possible to remove the entire unit for thorough cleaning wherever it's most convenient.
KlickTite™ port connectors
To connect a PUMProtector™ strainer, just insert the appropriate-sized KlickTite™ port connector (already attached to the hose) into the strainer unit, click the slider to lock it in place, and you're all set! To remove the unit, all that you have to do is click the slider open and pull the port connector out of the unit. It is as simple and straightforward as that.
Easy removal doesn't only facilitate cleaning, it also means that the system to which the PUMProtector™ strainer is attached can easily be drained and winterized at the first hint of freezing temperatures. It also means that these strainers can be installed in locations where space for tool access might be limited.
The PUMProtector™ inlet strainer attaches directly to the AquaJet™ pump with a KlickTite™ port connector, and the universal strainer mounts securely with just two screws to virtually any surface, thus ensuring simple, worry-free installation. Nevertheless, set-up directions are included with every strainer.
All materials used in PUMProtector™ strainers comply with ANSI/NSF Standard 61 for drinking water system components. A 40 mesh cylindrical trap is included with the inlet strainer and, depending on the application for which it is to be used, either a 40 or 20 mesh cylinder can be chosen for the universal strainer.
Compact design, high quality materials, a wide variety of port configurations, and easy installation, inspection and removal all make the two new PUMProtector™ strainers from Johnson Pump self-evident choices for OEM and replacement applications. Simplicity themselves, these strainers have been designed to provide many years of flawless service.