Pumping Twice the Amount While Saving Energy
When the process control of the pumping station at Parksluizen in Rotterdam, the Netherlands, was automated, an Emotron FDU variable speed drive for 690 V with 12 pulse power supply was included in the installation.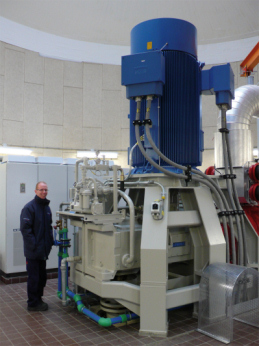 Emotron Parksluizen Pump Station
The customer now benefits from double the pumping capacity, minimized energy consumption, improved user-friendliness and low harmonic distortions.
Water level control critical in the Netherlands
In the Netherlands, regulating the water level in streams, lakes, ditches, moats and canals is critical for most activities. For the important shipping industry, a level that is too low will cause large ships to run aground, and one that is too high will make the vertical clearance under bridges insufficient. The Hoogheemraadschap van Delfland, or the Delfland Water Board, is one of 27 water authorities responsible for maintaining dikes and dams and controlling water level and water quality. The Delfland region is one of the most densely populated and highly industrialized areas of the Netherlands with about 1.4 million people and 40,000 businesses in an area of 41,000 hectares.
22,000 ships pass through the locks every year
The harbour authorities of Rotterdam manage the Parksluizen locks in Rotterdam, which about 22,000 ships pass through every year. They were completed in 1933 and consist of two locks connecting the shipping route from Delfshavense Schie canal to the Nieuwe Maas river, and the Coolhaven and Parkhaven ports. The pumping station at Parksluizen was built in 1965. Delfland Water Board needed to automate the process control and increase the pumping capacity. They turned to Bosman Watermanagement and Emotron to handle the engineering, dimensioning and commissioning of the pump and drive line.
Energy savings and improved user-friendliness
Delfland Water Board wanted an upgrade of the existing installation with a diesel driven pump. Replacing it with an automatic electric drive solution would offer more efficient pump control with minimized energy consumption and improved user-friendliness. A 690 V installation would also allow the use of cheaper cabling and a more compact variable speed drive thanks to the lower current.
The new solution is based on a Bosman Beveron 210 pump driven by a Siemens electric motor with an output of 1,375 kW. An Emotron FDU variable speed drive is used for the control. An IP54 classified enclosure meant the variable speed drive could be installed next to the pump. The 12-pulse variable speed drive in combination with a special star/delta transformer provides a low THDI (Total Harmonic Distortion of Current). The pump shaft rotates at a maximum of 135 rpm due to the gearing down from 1,000 to 135 rpm. The pump rotor and wear ring are made from durable and non-corrosive materials. The existing diesel motor has been retained for emergency situations.
"We chose Emotron for the engineering of the drive system and the result is an efficient solution for our customer," says Arwin de Klerk, Project Manager at Bosman Watermanagement.
Double the pumping capacity and improved power quality
The Delfland Water Board now benefits from double the pumping capacity, 20 m³/s instead of 10 m³/s. They have also improved the efficiency and reliability of the electrical power and reduced stress on power distribution equipment thanks to lower harmonic distortions on the mains power.
"We also appreciated having a single company responsible for the complete drive system. Emotron has supplied pump control equipment for our pumping stations and wastewater treatment plants for many years now," says Piet van Mullem, Electro-Technical Engineer at Delfland Water Board.
An efficient pumping solution
Bosman Watermanagement
Engineering of the complete installation
Bosman Beveron 210 pump, pumping capacity 20 m³/s Emotron
Engineering of the complete drive system
Emotron FDU 2.0-69-1400-20CE variable speed drive
Star/delta transformer 23 kV/690 V, 1,800 kVA
Siemens motor 1,375 kW/690 V
About Emotron
Emotron is a Swedish company which develops solutions for protecting and controlling processes driven by electric motors. The complete product portfolio, comprising shaft power monitors, softstarters and variable speed drives, is optimized for applications within flow control and material handling such as pumps, fans, cranes, crushers and lifts. The driving force is creating measurable benefits through energy savings, reduced maintenance and improved productivity.
In the last 30 years Emotron has grown to become a global group with 170 employees and a turnover of 40 million euros. Development and manufacturing resources are located in Sweden, the Netherlands and Germany. The company has its own sales organizations in Sweden, Benelux and Germany, offices in China and Latin America, and a worldwide network of distributors.