Process Water Treatment in Large Wastewater Treatment Plant with Storage and Dosing Stations from Alltech
One of the largest and most modern wastewater treatment plants in Germany, with a treatment capacity of up to 200,000 cum/day, uses the SBR process to treat Berlin's wastewater. The process water treatment of the wastewater treatment plant uses systems from Alltech.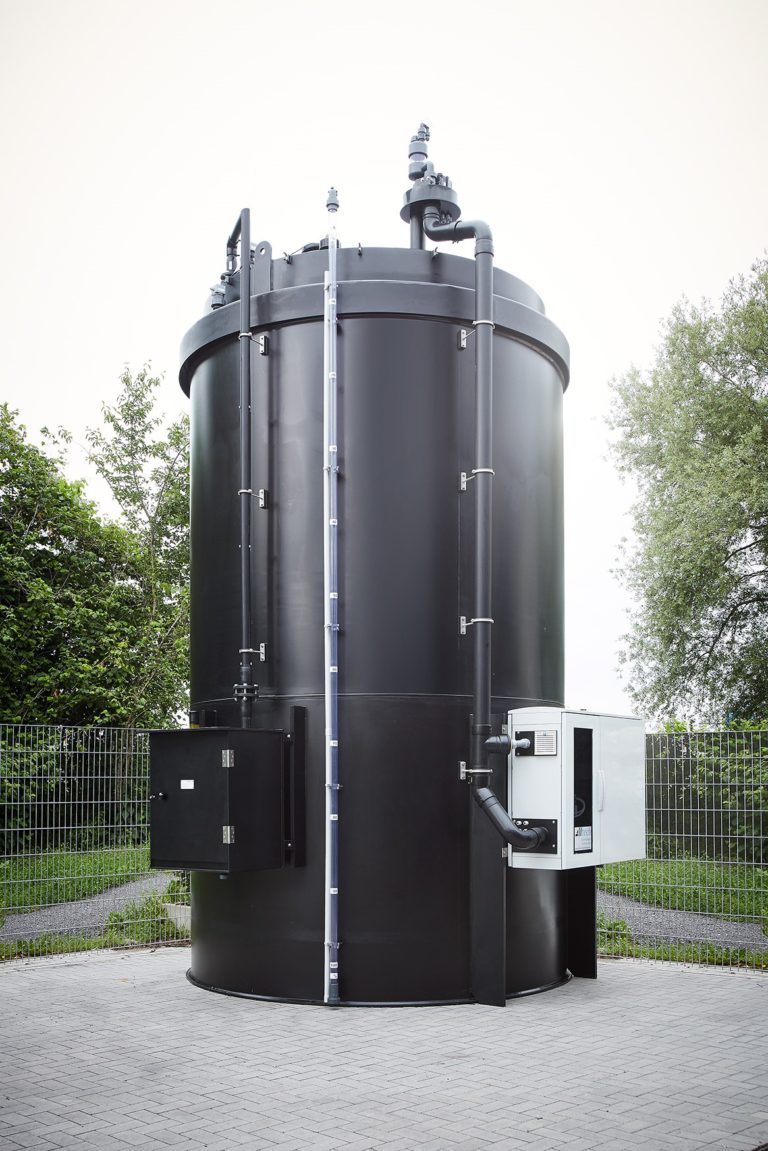 Process water treatment in large wastewater treatment plant with storage and dosing stations from Alltech. (Image source: Alltech Dosieranlagen GmbH)
In dry weather, six wastewater treatment plants in Berlin treat around 624,000 cubic meters of water every day. Almost one third of this wastewater volume is handled by a single plant, one of the largest and most modern in Germany. Wastewater treatment here takes place in the SBR (Sequencing Batch Reactor) process, a variant of the conventional activated sludge process. Since 2017, the wastewater treatment plant has been undergoing additional expansion and modernization as part of extensive construction measures, with the main focus of the work planned up to 2025 being on central process water treatment. Storage tanks and dosing stations for caustic soda dosing
Since the function of the SBR process is decisive for the effectiveness of the process water purification, each SBR receives its own caustic hydroxide dosing station with 2 FKM piston-diaphragm dosing pumps each (one dosing pump "duty", one dosing pump "stand-by").
The sodium hydroxide dosing controls the pH value in the SBR to be within a predetermined setpoint range. The sodium hydroxide addition is controlled by the pH measurement: If the pH value falls below the previously defined minimum pH value, sodium hydroxide is added; if it rises above a predefined maximum value, dosing stops.
Storage tank for caustic soda
For this project, Alltech supplied three cylindrical tanks for the storage of sodium hydroxide with collection bunds for indoor installation. The tanks have a maximum usable volume of 25000 l each, are designed according to WHG and have the design approval Z.4021-27 of the German Institute for Construction Technology (DIBt). The storage tanks have an access ladder with back fall protection and a platform so that the safe operations and maintenance is ensured.
TABESY tank filling systems are mounted on the outside wall of the hall and are equipped with a safety shutdown and a warning system.
Alltech's robust and proven piston diaphragm dosing pumps are installed in a protective cabinet (PE) with transparent sliding doors and leakage tray. In this way, operating personnel are protected from spray leakage at all times and still have an unrestricted view of the operating status of the dosing system.
Mother tank with dosing station for defoamer for foam control
In the PNAA process (biological sludge water denitrification with partial nitritation and anaerobic ammonium oxidation) used in process water treatment of this wastewater treatment plant, foaming must be expected at times. However, the addition of defoamer is not always necessary. First, foam control is carried out with service water. Only in a second stage, if necessary, foam control is carried out with defoamer and process water.
The defoamer is dosed by means of piston-diaphragm dosing pumps, installed in a protective cabinet located in a process water treatment building. Here, as well, one dosing pump is provided "on-duty", one "stand-by".
The defoamer is supplied in IBCs and placed on the mother tank. This mother tank is a storage system for the safe handling of chemicals when using standard chemotainers. Chemotainers are positioned directly on the tank with the help of a forklift truck or lifting device, and are emptied  into the tank completely.
The volume of the tank permits emptying of a new IBC with still having a liquid reserve of 10-50 percent in the tank. In this way, a continuous supply to the dosing system is ensured and the timing of the transfer process does not have to be monitored precisely.