Pressure Booster Package System
The new Hya-Compact pressure booster systems will primarily be used in drinking, service and cooling water applications for building services.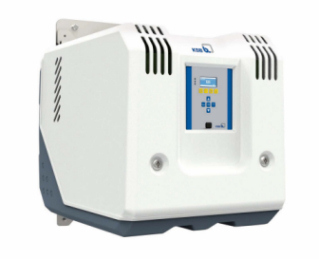 Depending on the demand, the number of intelligent Hya-Compact pressure booster systems can be increased. (Image: KSB)
The system's compact and attractive design allows space-saving wall or floor mounting, while integrated suction and discharge nozzles with pipe threads and direct connection to the mains via a plug make installation straightforward. The two-pump system generates a maximum head of 60 metres. Whenever necessary, the stand-by pump can be started up to meet peak load demand. The maximum system discharge pressure is 10 bar; the maximum permissible inlet pressure is 6 bar. As the Hya-Compact system is equipped with variable-speed, energy-efficient IE2 motors, users can save up to 35 percent of energy compared with conventional booster systems. Each of the two pumps has its own frequency inverter. As well as ensuring that energy consumption does not exceed the amount required to supply pressure to the connected hydraulic consumers, the frequency inverters also allow the pumps to be started up and slowed down smoothly, improving system reliability. The Hya-Compact's housing delivers low-noise operation, while the internal piping arrangement avoids regions where fluid can stagnate, thus inhibiting the growth of germs. The standard-equipped compact booster package system comes with a large display panel on which all important system data is presented in clear text. Standard fault messages can be transmitted to a building management system, and are joined by a further integrated function - the innovative leakage reporting feature.
The new Hya-Compact pressure booster systems can be seen at the KSB booth at the Frankfurt ISH trade fair held in March.