Powerful New Single-stage Rotary Vane Vacuum Pumps Uno 3 and Uno 6
Pfeiffer Vacuum introduces the new single-stage rotary vane vacuum pumps Uno 3 and Uno 6. These compact vacuum pumps distinguish themselves with very low energy consumption of no more than 150 watts. Their low weight makes them ideally suitable for integration into existing systems.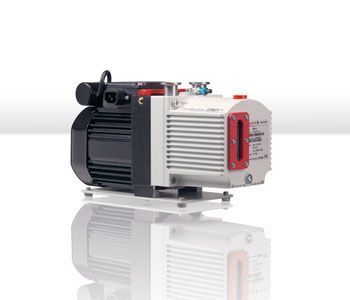 Pfeiffer Vacuum rotary vane pump Uno 3 (Image: Pfeiffer Vacuum)
In addition, the Uno 3 runs extremely quiet at a mere 48 decibels. It is therefore particularly well suited for use in quiet work environments.
Both pumps are optionally available with magnetic couplings. This allows for long maintenance intervals. As this innovative drive concept is energy conserving, substantial cost reductions can be achieved. Furthermore, the magnetic coupling seals the pump hermetically, thus allowing for clean and environmentally friendly operation.
Within the Pfeiffer Vacuum portfolio, the Uno 3 and Uno 6 complement the DuoLine rotary vane vacuum pump series. They feature pumping speeds of up to 6 m3/h and cover the pressure range of up to 5 · 10-2 hPa.
The UnoLine is suitable for a wide variety of applications in the low- and medium vacuum range. Applications include: mass spectrometry or electron microscopy as well as in leak detection and in industrial drying processes.