Parker Announces Syringe Pump for Smarter, More Efficient Assays
The Precision Fluidics Division of Parker Hannifin Corporation, the global leader in motion and control technologies, announces the release of the Parker Smart Syringe Pump, a 30mm syringe pump that improves the performance of Clinical Diagnostic and Analytical Chemistry systems requiring precision fluid delivery.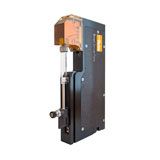 Parker
Parker designed this long life pump to a minimum of 5 million cycles, developing a lightweight and compact solution that helps reduce overall instrument costs and footprint.
"As we listened to the future requirements of life science OEMs the need for simplified and compact instrument designs became clear." says Don McNeil, Senior Product Manager for Parker Hannifin. "The Parker Smart Syringe Pump is one-third the size and weight of standard 30mm syringe pumps which offers tremendous flexibility for instrument designers. Combined with our best-in-class resolution and non-pulsatile flow rates down to 7.5 nanoliters per second — now you have a syringe pump with superior performance that can easily replace current pumps with the advantage of being directly mounted on motion systems."
By directly mounting a Parker Smart Syringe Pump on a motion system, instrument manufacturers can simplify their designs by completely removing transfer tubing between the pump and probe thereby eliminating any loss in performance associated with long transfer lines.
"Performance is a significant advantage with this pump," explains McNeil. "With its encoded servo motor featuring 228,495 step resolution, instrument designers can achieve the precision needed with much smaller sample and reagent volumes and ultra-low flow rates to stand out from their competitors when it comes to accuracy and precision. By moving to smaller sample and reagent volumes OEMs can develop more efficient assays that improve speed and reduce cost."
The Parker Smart Syringe Pump is ideal for applications such as in-vitro diagnostics, hematology, molecular diagnostics, flow cytometry, genomics, proteomics, liquid handling, sample preparation, chromatography and precision flow control. The Parker Smart Syringe Pump is CE compliant for emissions, immunity, and safety.