Paper Mill Replaces Diaphragm Pumps With Qdos Metering Pumps
A major paper mill in Germany has replaced its existing diaphragm pumps with Qdos models from Watson-Marlow Fluid Technology Group and seen immediate process improvements including: reliability, increased up-time and ease of maintenance when pumping anti-foam agents used in starching operations.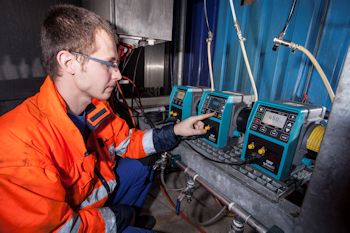 Schoellershammer / Watson-Marlow
The Schoellershammer plant, run by Heinr. Aug. Schoeller Söhne GmbH & Co in Düren, Germany and has been established for 230 years. The family-owned company produces fine paper for the German and international markets with almost 240 employees and two paper machines. Corrugated board base papers for packaging are also manufactured on another machine known as 'PM 5', which currently produces around 225,000 tonnes a year with a weight of 90-170 g/m². A further paper machine is expected to be commissioned in 2016 due to growing demand for lighter weight corrugated board.
Hundreds of pumps
Like all modern paper mills there is a constant focus on the optimisation of production processes, and particularly on pumping. The plant uses hundreds of pumps across its site in countless applications.
"We use over 400 pumps for a wide variety of tasks, including lots of lobe pumps and progressive cavity pumps," confirms Holger Malsbenden, Maintenance Manager at the facility. "However, we are now increasingly reliant on peristaltic pumps, particularly when it comes to challenging applications and substances that are difficult to transport."
The peristaltic principle combines efficiency with simple operation, and long intervals between maintenance that help reduce costs. In contrast to many other types of pump, peristaltic pumps are also dry-running and self-priming, factors that helped the Schollershammer facility to decide upon the implementation of innovative Qdos metering pumps for dispensing small amounts of anti-foam agent.
Anti-foam agent is required because large amounts of starch are used to treat the surface of corrugated board base paper. The starch is kept in a large storage tank and transferred from there into two tanks ready for treating the top layer and the back.
"Too much unwanted foam was developing, so we had to add an anti-foam agent to the starch plant," explains Kevin Dahmen, the measurement and control technician responsible for the metering station. "A total of three pumps transport the additive to the storage tank, as well as directly into the two other tanks."
Until recently, this job was done by diaphragm metering pumps, but Schoellershammer was losing patience with what was becoming a growing list of issues.
"Although we were actually happy with the metering performance of the diaphragm pumps, we were concerned about the high amount of repair and maintenance work required," says Mr Dahmen. "It always took a great deal of time to replace damaged diaphragms. Furthermore, as the diaphragm pumps were not self-priming, we had to manually add a small amount of anti-foam agent to the pump head after every maintenance operation, which necessitated even more time. However, the biggest problem was that the diaphragm pumps required several valves, which tended to become blocked, leading to yet more maintenance work."
The Qdos solution
It was for these reasons that Schoellershammer started to look for alternatives. The team discovered that Watson-Marlow's Qdos metering pump - with its flow range from 0.1 to 500ml/min - was perfect for the application flow rate of 100 to 450 ml/min. Like all peristaltic pumps, the Qdos is a self-priming and dry-running pump, meaning that there is no need for anti-foam agent to be filled by hand after maintenance. What's more, the pump operates without any ancillaries.
Blocked check valves and torn seals are now a thing of the past at Schoellershammer. The only wearing component in Qdos pumps is the patented ReNu pump head from Watson-Marlow, which can be replaced as a complete part.
"By using the Qdos, our stock of spare parts for the metering station has shrunk considerably," states Mr Dahmen. "Instead of shelves full of valves, seals and other parts, we now only need one spare part – the pump head. And, in contrast to changing a diaphragm, it takes no more than a few minutes to change."
As it happens, changing the pumphead looks likely to be a rare event. The Schoellershammer plant reports that all three Qdos pumps used on the unit to dispense anti-foam agent have been operating extremely smoothly, with the first pumphead in continuous operation for around one year.
Another benefit to the paper mill is the easy and intuitive operating capability of Qdos pumps, which offer a 3.5" TFT colour display. The means that not only is too much anti-foam agent prevented from being dispensed, but frequent calibration is no longer necessary.
Dye dosing
Another successful application for peristaltic technology at Schollershammer involves pumping dye for the test liners on the PM 5 into a container. Here, a total of three pumps are required.
"We previously used lobe pumps but they needed special O-ring seals and ball check valves, and there was always a risk of them getting blocked," says Thomas Linnartz, Manager of the electrical workshop. "As a preventative measure, we had to clean the valves virtually every week, which was a considerable amount of work considering there were four valves on each pump."
At the dye supplier's suggestion, the plant decided to switch to peristaltic pumps, and three directly connected Watson-Marlow 521 series peristaltic pumps are now deployed on the PM 5's dye station. These robust industrial peristaltic pumps are designed specifically for use in the toughest conditions, and are suitable for flow rates from 2.5 to 4600 ml/min.
"Using Watson-Marlow pumps has led to a considerable reduction in the time spent on maintenance and repair work," reports Mr Linnartz. "Firstly, this is because the pump has very long intervals between maintenance and, secondly, the tube can be changed very quickly."
The team at Schoellershammer is also impressed with the performance of the pumps.
"We have established that there is practically no substance too tough for the peristaltic pumps to handle," says Mr Linnartz.
Future opportunities
Schoellershammer is currently in the process of assessing whether Watson-Marlow peristaltic pumps can be used in other pumping applications at the plant.
"We've seen that the peristaltic pumps are easy to operate and that using the pumps over the whole life cycle results in considerable savings due to lower repair and maintenance costs," concludes Mr Malsbenden.