Outstanding Inventive Talent at Oerlikon Leybold Vacuum
Only creative companies with vision and a feeling for new ideas make it into the ranks of the top one hundred most innovative SMEs. Oerlikon Leybold was among them in 2011, and was presented with the Top 100 award by Lothar Spaeth in the Baltic resort of Warnemuende.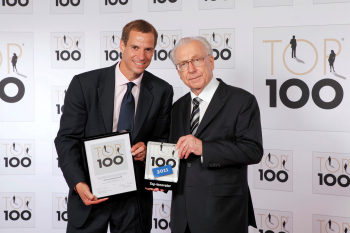 Oerlikon Leybold Vacuum
Oerlikon Leybold Vacuum GmbH specialises in the creation of vacuums for industrial applications. A number of products are now manufactured under vacuum conditions, including light bulbs, refrigerators, automotive components and computer parts. As far back as 1850, the company s founder, Ernst Leybold, recognized the potential uses of a vacuum. Nature on earth abhors a vacuum, but throughout its 160-year history the company has consistently come up with new ways to benefit from it. "We are constantly reinventing ourselves – despite or perhaps because of our long company history", said CEO Andreas Widl.
To ensure that it keeps its finger firmly on the pulse of time, the company pays close attention to what its customers actually need. Their wishes and requirements are fed into an innovation pipeline via the product marketing and development functions. A lot of ideas are collected which are then reviewed and screened by the senior management. Financial aspects play a key part in this selection process. As far as the company is concerned, innovations management is also investment management. "Because no matter how good an idea might be, implementing it will always require time and the allocation of a certain budget", noted Andreas Widl.
This approach has proven successful and holds a lot of customer benefits, as the innovations of recent years have proven. The dry compressing screw type vacuum pump series DRYVAC and the magnetically levitated turbo molecular pumps TURBOVAC MAGiNTEGRA are well received in the industry, offering an innovative and reliable pumping concept: robust and almost maintenance-free. Optimizing manufacturing processes by delivering vacuum systems designed to customers' requirements is one of Leybold Vacuum's declared objectives.
The Vienna University of Economics and Business Administration scrutinised the innovative capabilities of 272 small and medium-sized German firms over a period of several months. The 100 best companies – Oerlikon Leybold among them – bear the Top 100 seal of approval for one year.
"Creative, innovative ideas and a fresh way of thinking are more than ever an integral part of our corporate culture, which we believe will translate into higher revenue and earnings in the medium term. That is why we are particularly proud to receive the Top 100 award", commented Andreas Widl.
The 100 SMEs who were awarded the seal of approval in 2011 generated total revenue of €11.2 billion last year. In 2010 alone, 769 German and 1,865 international patents were registered. Forty-eight of the one hundred companies are top in their respective sector in Germany, and 19 are actually global market leaders. In the past three years, 88 of the 100 award-winning firms grew faster than the average for their respective sector – by an average of around 16 per cent.