One Powerhouse Event, One Comprehensive Solution
A not-to-missed annual business platform for the commercial and industrial building sectors in Southeast Asia and beyond, Mostra Convegno Expocomfort (MCE) Asia will bring to you a wide range of cutting-edge solutions in HVACR, Water and Energy from around the globe that meets the market's needs for energy efficiency and reduced resource consumption.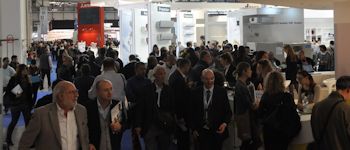 Mostra Convegno Expocomfort (MCE) Asia
MCE Asia will be held in Marina Bay Sands Singapore from 2 – 4 September 2015 and will congregate these key brands - Altech Equipment Systems, Bitzer Refrigeration, Belimo, Caleffi, Cimberio, Coes, Daikin Airconditioning (Singapore) Pte Ltd, Deos Control Systems, Ebm-Papst, Galletti, Itap, KSB, Mitsubishi Electric Asia Pte Ltd, Panasonic, Rubinetterie Bresciane Bonomi, Saudi Ceramic Company, Reflex, Reliable Controls, Smartdt Chillers, and many more.
Together with the co-located Build Eco Xpo (BEX) Asia 2015, visitors to MCE Asia 2015 can conveniently source from more than 450 exhibits from around the globe.
Catalysing Asia's Global Comfort Technology and Energy Efficiency Industries
Apart from a holistic showcase of solutions that you can experience up close, MCE Asia will also have a seminar platform called Mostra Xchange – where insights from leading leading personalities in the HVACR sphere and product showcases will converge to keep sector professions like yourself ahead of the growing competition.
The notable lineup of speakers include Prof. William P. Bahnfleth, ASHRAE Presidental Member from 2013 – 2014 and now Professor of Architectural Engineering and Director of Indoor Environment Center in The Pennsylvania State University; Jay Egg, President of EggGeothermal Consulting; Man Kit Leung, Director of Sustainable Design, Ronald Lu & Partners; Lim Soon Heng, Director of Strategic Development, Singapore Power and more.
MCE Asia as a business platform is made even more extraordinary with its tailored Business Matching programme that connects relevant exhibitors with interested trade visitors.
Stemming from its success during the last edition, the "No-Coat, No Tie" dress code will make a return at BEX Asia and MCE Asia 2015, as part of both events' efforts to reduce energy usage by keeping the in-hall temperatures at a sustainable yet optimal comfort level.
Global Green Building Community Gathers in Singapore
Collectively, BEX Asia 2015, MCE Asia 2015 and the International Green Building Conference (IGBC) 2015 will be the key platforms during the Singapore Green Building Week in September for the exchange of global expertise, knowledge and solutions for the future of Southeast Asia's Sustainable Built Environment.