Offshore Solution Underlines Moyno Versatility
The wide variety of applications that can be accommodated by Moyno progressing cavity (PC) pumps has been highlighted by an offshore application. Ten of Moyno's 2000 Series pumps have been ordered for a new fleet of offshore supply vessels that will be used to service drilling rigs worldwide.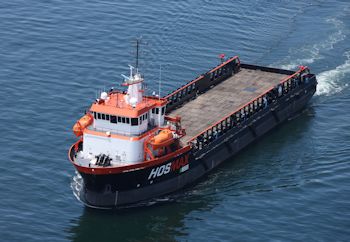 Hornbeck / Moyno
The 2000 Series pumps will be fitted to 10 new HOS MAX 320 supply vessels which Mississippi-based VT Halter Marine is building for Hornbeck Offshore. The pumps will transfer up to 24-pound liquid mud to and from the vessels, which will be off-loaded when they reach the drilling rigs.
"This is a very demanding application for any pump," comments Moyno's Chip Strickland. "Drilling mud is a very aggressive substance that can have high solids content, so the pumps must be able to withstand this."
The ability to operate at sea was another important consideration. For example, centrifugal pumps require a fairly stable level of pumped media to work efficiently. The motion of the sea can cause the mud levels in the vessels to fluctuate constantly and this would have reduced the efficiency of a centrifugal pump, leading to longer off-loading times and expensive delays. However, the progressing cavity action of the Moyno pumps isn't affected by these changing mud levels and they can work perfectly well in these circumstances. This allows the vessel operator to accurately predict the time needed for off-loading and get the vessels heading back to shore for the next load as soon as possible, without any costly delays.
"In addition to these predictable off-load times, our 2000 Series pumps are also well-proven in this type of challenging duty," adds Chip. "They offer the high volume and high pressure capabilities which the customer requires, plus the ability to operate in reverse so that mud levels in the tanks can be adjusted to add extra stability while the vessels are at sea."
Moyno's high-performance 2000 Series pumps offer an outstanding combination of low maintenance, minimal downtime and long service life, which all combine to create a low cost of ownership. Their proprietary 2000 Series gear-type universal joint design minimizes wear and accommodates both radial and thrust loads with ease. This allows the pumps to handle abrasive materials with over 80% solids, while still maintaining a steady and consistent flow. The 2000 Series range also offers performance capabilities to 4,500 GPM, with pressure to 1,500 psi.
Both cast iron and stainless steel models are available, with a choice of materials and coatings for rotors and stators, to suit individual applications. "The 2000 Series pumps also have a low running speed capability which extends both the maintenance intervals and the overall working life. That pays particular dividends on an application like this where the pumped media is so abrasive," concludes Chip Strickland.
The pumps will transfer mud at volumes up to 1,000 GPM, handling pressures of 200 psi. The order was secured through Moyno's partner company, Chemetec Engineered Equipment. Other pumps in the Moyno range offer proven solutions for many other oil and gas applications, such as multiphase fluid transfer, lease automatic custody transfer, crude oil transfer and produced water handling duties.