NOV Equipment Updated After Over 40 Years of Reliable Service
Mono macerating and pumping equipment provided by NOV, that has operated for over 40 years, has been replaced with new equipment from the same company at a waste water treatment plant in North Yorkshire. Mono Munchpump packaged systems have been supplied to replace the original equipment, which had provided outstanding service at the Langthwaite WWT plant.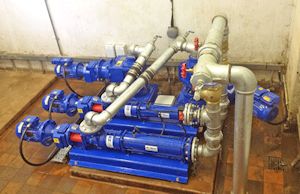 Mono Munchpump (Image NOV Mono)
"The original Mono Mutrator units were installed prior to 1970, and the time had come to upgrade," says Gerald Muldoon, Account Manager for Mono. "They had proved to be rugged, reliable and long-lasting, so the plant was happy to replace them with our modern equivalents."
Energy efficiency was a key factor in specifying Mono equipment for the Langthwaite plant. "The original high-speed macerators used were powered by 7.5kW motors, whereas the replacements need only 1.5kW motors," adds Gerald. "This type of energy efficiency is an increasingly important consideration for water and utility companies as they adapt their strategies to focus on a more holistic total expenditure (TOTEX) approach. It underlines the fact that by combining Mono's energy efficient products with our ability to provide complete customized solutions, Mono is ideally placed to help utility operators align their operation with TOTEX principles."
The Munchpump systems are used in a duty/standby configuration, and each includes a Mono EZstrip transfer pump and a Mono SB Muncher. Effluent from the village of Langthwaite enters a wet well, and when a set level is reached the Mono transfer pump lifts the effluent into the Muncher for macerating any solids within the flow to a small particle size. This eliminates any blockages when transferring the effluent to the head of the treatment works. From there it is gravity-fed into the treatment process, before final discharge into the nearby Rive Arkle.
"The original Mono equipment had performed well, so it made good sense to replace it with Mono's current packaged pumping system," comments Yorkshire Water's Alex Garside. "Mono also provided a full M & E design solution and handled the installation process, and that certainly helped make the project far simpler from our point of view." This is a Mono solution that Yorkshire Water has used at other treatment plants," Gerald continues. "The pumps were sized so that the required 13.5 m3 per hour flow capacity could be achieved, but at a low speed which would increase the longevity of the parts and extend the intervals between maintenance."