New Versions of Alfa Laval Mixproof Valve Designed to Meet Industry Challenges
A reliable process with flexibility and sustainable advantages ensures high product quality and strengthens the competitiveness in hygienic manufacturing of food, dairy, beverage, pharmaceutical and home & personal care products.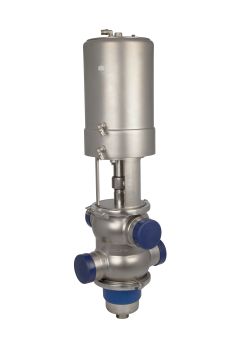 Alfa Laval
Food / Dairy / Beverage industries:
Manufacturers of products containing high chloride concentration or low pH-levels often face corrosion challenges in their hygienic processes. A few examples:
Food: Soy sauce, ketchup or citrus acid extraction
Dairy: Lactic acid, whey and brine from cheese manufacturing
Beverage: Isotonic drinks, minerals dosing and hot water systems
Meeting the demand for higher corrosion resistance, Alfa Laval s newly launched high alloy versions of its well-known Unique Mixproof valve secure superior product safety and longer equipment lifetime. The new Alfa Laval Unique Mixproof High Alloy version comes in two optional materials: Hastelloy C22 and AL6XN.
Home & Personal Care industries:
When producing anti-perspirant deodorants, fabric softeners and bleach type products there may be a need for equipment with high corrosion resistance in certain parts of a companies process.
Products containing quats with high chloride content and aluminium chlorohydrate tend to increase pitting or crevice corrosion leading to possible equipment failure and systems leakages. The new Alfa Laval Unique Mixproof High Alloy, manufactured in either Hastelloy C22 or AL6XN, gives you two solutions for higher corrosion resistance, longer equipment life and reduced production downtime.
Biotech & Pharmaceutical industries:
To meet the high standards needed in the growing pharmaceutical industry, Alfa Laval has launched its well-known Unique Mixproof valve in an UltraPure version.
Like all of our UltraPure equipment, the new Alfa Laval Unique Mixproof UltraPure comes with the Alfa Laval Q-doc package ensuring full traceability (3.1 certification) and seals with FDA, USP class VI and TSE/ADI certificates. Furthermore, the new Unique Mixproof UltraPure version will be available in high alloy materials: Hastelloy C22 and AL6XN. These alloys meet the demands for higher corrosion resistance from aggressive applications including, buffer solutions, cleaning liquids, high salt solution etc.