New Sero High Pressure Side Channel Pump
Sero PumpSystems GmbH has expanded its classic product range to include a new API line fulfilling the specific low flow – high head requirements for the transfer of volatile liquids (high ends) in oil&gas, petrochemical, chemical industries and process engineering.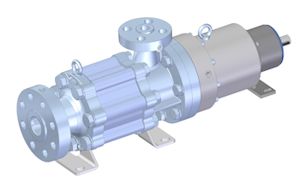 New High Pressure Side Channel Pump SHP
Processes requiring high heads at low flows have so far been handled with pumps operating above synchronous speed or using large impellers with narrow passages – all costly solutions.
Based on the proven side channel impeller geometry Sero has developed an innovative pump in heavy and robust industrial design providing a secondary containment (barrel) for increased safety. The new pump meets the key market demand: reliability and helps operators to make the most efficient use of the process stream.
The SHP comes as a high performance side channel pump in single or mulstistage design, with mechanical seal or as sealless mag drive pump according to API 610.
Technical Data
Heads up to 1200 m, flows up to 8,5 m³/h
Nominal pressure: up to 100 bar
Lowest NPSH values: far below 1 m