New Sand Mixer Installed
Allweiler AG installed a new sand mixer at its German foundry. The new machine is just one aspect of a comprehensive effort to modernize the foundry. In total, Allweiler will invest 650,000 euro in modernization this year.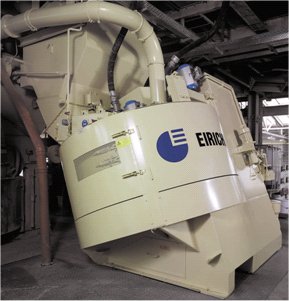 (Allweiler AG).
Allweiler is introducing advanced mixing procedures with automatic quality control of every batch. For this the company is investing about 650,000 euro in 2005 for a new sand mixer with a capacity of 39 metric tons per hour and a "Eirich Qualimaster" fully automated sand lab. These changes will modernize the plant and continually improve the quality of the sand and therefore of the cast parts. "The foundry in Radolfzell is an indispensible part of Allweiler's logistical chain and a major factor in our ability to produce pumps of the highest possible quality and deliver our products on-time," according to Klaus Stahlmann, CEO and Chairman of the Allweiler Executive Board.
The new system mixes sand much more accurately, reducing by half the number of unusable cast parts. It simultaneously saves time and energy. The new mixer replaces a system from 1955. Plant Manager Dr. Michael Matros: "We believe that improved quality of the cast parts will pay for this investment within two to three years."
Allweiler AG is one of the few pump manufacturers with its own foundry. What originally started as a small in-house production facility has grown over the years into a company that employs 80 people and fulfills an essential role in Allweiler's logistical chain. Today the foundry can draw on more than 140 years of experience as it produces everything from rough cast and finished parts to ready-to-install components. The Radolfzell foundry uses a variety of ferrous materials (EN-GJL-1020 to EN-GJL-1050 and EN-GJS-1030 to EN-GJS-1070) in addition to the non-ferrous aluminum-bronze (G-CuAl10Ni). Processing the latter material is extremely demanding from a technical standpoint and only very few foundries are capable of handling it. But its resistance to saltwater makes aluminum bronze the best material available for constructing pumps used in ships and offshore applications.
This is one reason why Allweiler's ship pumps are in such high demand around the world. Every year the foundry produces about 3600 metric tons of good casts for nearly 10,000 orders. Allweiler needs about two-thirds of the production for its own products, with the remainder going to customers in Germany and other countries from a variety of industrial segments (for example: MTU, LINNIG Trucktec GmbH, FRIATEC, GEORG FISCHER Rohrverbindungstechnik, and Detroit Diesel Corporation).
Quality control measures are performed at every step of the production process (raw materials, mold sand, smelting, and cast parts). An integrated quality assurance system with advanced computerized testing equipment and methods ensures that Allweiler reliably fulfills even the most demanding customer requirements. These measures ensure consistent quality of the cast products. The company is certified according to DIN EN ISO 9001 and is approved by DNV, Germanischer Lloyd, and German Rail's Q1 standard.